End Forced Labor in Qatar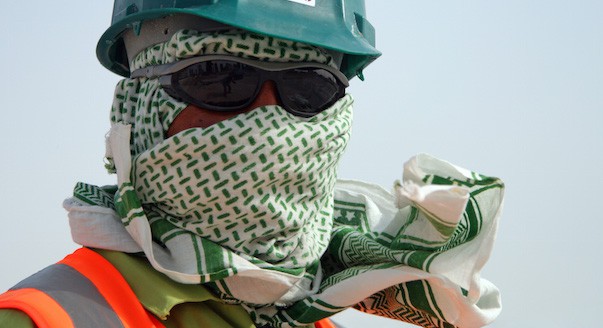 Bide Majakoti knows the horror of forced labor and modern day slavery in Qatar first-hand. He travelled from Nepal on the promise of a well-paid job and paid high recruitment fees to secure it. When he arrived in Qatar he was forced to accept a different job and his nightmare with exploitation and modern slavery began.
Unfortunately, as construction for the football 2022 World Cup intensifies, more migrant construction workers will be vulnerable to forced labor and Qatar slavery than ever before. Over 90% of Qatar's workers are foreign workers, brought to the country under kafala, the 'sponsorship' system. It is a worker sponsorship program that jeopardizes basic human rights of migrant workers, allowing slavery-like working conditions to flourish leaving thousands of migrant workers in Qatar vulnerable to forced labor and other human rights abuses, often without the ability to change jobs or even leave the country.
Bide was forced to do his job in terrible working conditions, in the blistering heat without safety precautions or pay. With no other option open to him, he returned home saddled with debt. While Bide ultimately left his job and returned home to tell his story, thousands of other employees never get that chance. Many others' experiences are even worse; construction workers often have their wages withheld, are denied exit visas, are housed in dirty, unsafe conditions and forced to work long hours with little rest despite the high heat.
Right now we have an opportunity to help. The Ministry of Labor made promises to make substantial reforms to the kafala system, ensuring the protection of migrant workers.
Last year, we were pleased to see that the Qatari government had introduced new laws to reform the kafala system. These reforms allow employees to leave undesirable jobs and freely seek employment elsewhere to avoid exploitation, receive better monthly minimum wage and working conditions.
But, several months later, full implementation is still lacking. Activists and lawyers working on the ground say that a lack of sufficient resources and the sheer volume of cases is the real cause of the lag for the new law.
When the 2022 World Cup is over, there will be less eyes on Qatar and less urgency for the Qatar government to implement these crucial reforms, protect workers rights and freedom.
Call on the Qatari authorities to deliver on the critical reforms they promised and end forced labor. Help improve the working conditions of hundreds of thousands of migrant workers in Qatar.
Watch 'Undercover film of life inside Qatar's labor camps' by Equal Times
From: freedomunited.org