OM SLAVERIET. DET MODERNE.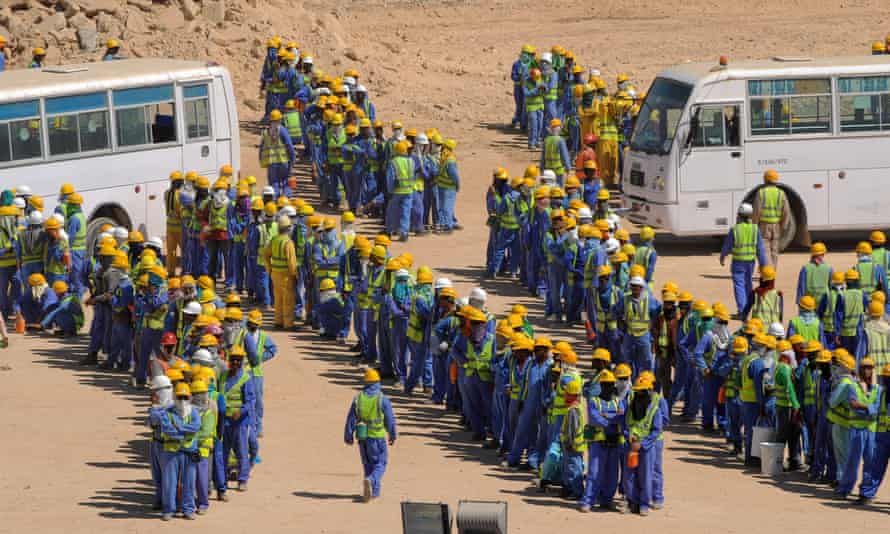 Foreign construction workers queue for buses back to their accommodation camp in Doha. Photograph: STR/EPA
I følge The Guardian kan så mange som 6500 fremmedarbeidere ha mistet liv siden starten av byggingen av anlegget i Quatar hvor VM i fotball vil finne sted i 2022. Det er i gjennomsnitt tolv arbeidsrelaterte dødsulykker i uken, siden byggingen begynte i desember 2010.
Påstanden fra The Guardian hviler på statistikk hentet fra ambassadene til de landene arbeiderne kommer fra: India, Bangladesh, Nepal, Sri-Lanka og Pakistan. Statistikken for hvert land finner du i artikkelen fra The Guardian:
https://www.theguardian.com/global-development/2021/feb/23/revealed-migrant-worker-deaths-qatar-fifa-world-cup-2022
I tillegg kommer dødsulykker som avisen ikke har fått statistikk om (arbeiderne fra Kenya, Filippinene).  
Komitéen som organiserer VM 2022 benekter omfanget av dødsulykker. Komitéen »beklager på det dypeste tragediene» og hevder å ha »etterforsket hvert tilfelle med sikte på å ta lærdom av det». Myndighetene i Quatar har en annen forklaring: det er kun 4% av dødsfallene blant indiske arbeidere som er forårsaket av arbeidsulykker. De øvrige dødsårsakene er bilulykker (10%), selvmord (6%) og …. naturlige årsaker (80%). Deres statistikk finner du også i The Guardian.   Talspersonen for den International Football Federation (FIFFA) glatter over det hele med å hevde at »antall ulykker på FIFFAs anlegg er svak sammenliknet med liknende byggeprosjekter i verden.» Vil de pårørende finne trøst i det?
Den siste tiden har vi sett markeringer mot fortidens slaveri, med krav om å rive ned minnesmerker over historiske personer.  
https://www.opprop.net/ta_ned_slavehandler-statuene_i_norge
Det er rimelig å forvente at de som vil rive ned Ludvig Holberg (og andre) fra pidestallen, vil nå stå i spissen mot det moderne slaveriet som vi er vitner til i Quatar og andre steder i verden.

Daniel Ducrocq