Statement
Jews stand against the smearing of Ilhan Omar
March 6, 2019
Congressional Democrats are attempting to discipline Minnesota Rep. Ilhan Omar for speaking critically about the American Israel Public Affairs Committee (AIPAC) — and more generally in defense of Palestinian rights — after smearing her as "anti-Semitic." This comes at the same time that Omar, one of the only Muslim representatives in Congress, has been targeted for death threats and Islamophobic propaganda likening her to those who carried out the 9/11 attacks.
But as a statement circulated among Jewish leftists makes clear, criticism of Israel's policies, of its treatment of Palestinians, and of the unwavering support of successive U.S. administrations for apartheid isn't anti-Semitism — it's respect for human rights. Here, we reprint the statement of Jews with Ilhan.
NAOMI KLEIN, Ilan Pappé, Ronnie Kasrils, Sarah Jaffe, Rebecca Vilkomerson and many more say: We are Jews who stand with Representative Ilhan Omar.
She has been falsely accused of anti-Semitism since tweeting that GOP threats against her and Representative Rashida Tlaib for criticizing Israel were "all about the Benjamins baby." When asked to clarify who is paying members of Congress "to be pro-Israel," Omar replied, "AIPAC!"
There is absolutely nothing anti-Semitic about calling out the noxious role of AIPAC (the American Israel Public Affairs Committee), which spends millions each year to buy U.S. political support for Israeli aggression and militarism against the Palestinian people. As the New York City chapter of Jewish Voice for Peace summed up: "Accurately describing how the Israel lobby works in this country is not anti-Semitic. The never-ending smear campaign against Ilhan Omar is racism and Islamophobia in action."
There is no denying that money rules U.S. politics, and that powerful lobbies from the National Rifle Association to the fossil fuel lobby to AIPAC play destructive, anti-democratic roles in our political system, wielding money for legislative influence. The pro-Israel lobby has played an outsized role in producing nearly unanimous congressional support for Israel. It has organized a national campaign to suppress Palestinian activism on campuses, made the Israel Anti-Boycott Act a legislative priority, and for decades has boasted about their power to make or break political careers. To point out this reality is not anti-Semitic.
Genuine anti-Semitism and the growth of white supremacy are indeed growing concerns in Donald Trump's America. Omar and Tlaib, the first two Muslim congresswomen in this country's history, are not part of this ugly growth of white supremacy. Instead, they are part of movements which seek to confront it. For that, and for their courageous support of the Boycott, Divestment, and Sanctions (BDS) campaign, they are being smeared by a racist and Islamophobic chorus, including the House Democratic leadership itself.
As long as the Israeli state continues to militarily besiege, economically choke, and incessantly dispossess the Palestinian people, and as long as it does so with the full backing of the United States government, we need to speak out against these crimes. We thank Ilhan Omar for having the bravery to shake up the congressional taboo against criticizing Israel. As Jews with a long tradition of social justice and anti-racism, AIPAC does not represent us. #WeStandWithIlhan
—————————————————–
Four articles showing Israeli soldiers killing indiscriminately Palestinian Girls – and mocking Palestinian Artist – which shocks Israelis more than the killings of kids (see second last article)
---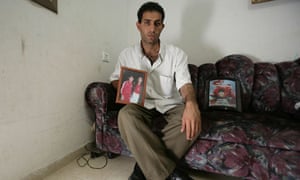 A 10-year-old Palestinian girl was killed by a rubber bullet fired by Israeli border guards, a Jerusalem court has ruled, dismissing police claims that the child was hit by a stone thrown by youths.
Abir Aramin's death in January 2007 was «totally unjustifiable», according to the civil court's ruling. The court said border guards had either been negligent or had disobeyed instructions, and it ordered the government to compensate the family.
«There is no debate over the conclusion that Abir was injured by a rubber bullet shot by border guards, which in turn leads to the conclusion that the shooting of Abir occurred out of negligence, or in violation of the rules of engagement,» said Judge Orit Efal-Gabai.
«Abir and her friends were walking down a street where there were no rock-throwers, therefore there was no reason to shoot in their direction.»
Abir was struck as she walked with her sister and friends to buy sweets in the West Bank town of Anata after a maths exam. Bleeding heavily from a head wound, she was taken to hospital but died two days later.
The Israeli border police investigated the incident but, citing the autopsy which said it was possible that Abir's injuries could have been caused by a stone, concluded there was not enough evidence to proceed.
Abir's family filed a civil suit against the state, on which the court ruled yesterday.
Bassam Aramin, the girl's father, said that he still hoped those responsible for firing the bullet would be brought to justice. «I cannot blame an 18-year-old boy for shooting an innocent 10-year-old girl,» he told the Ynet website. «There is something behind this, and it's the government's policies and the narrative his state has instilled in him. But still, I want them to be punished.»
Aramin is a former Fatah militant who renounced violence while serving a prison sentence in an Israeli jail. He is one of the founders of Combatants for Peace, an organisation of former Palestinian militants and Israeli soldiers who promote peaceful dialogue between the two sides of the conflict.
---
An Israeli army officer who fired the entire magazine of his automatic rifle into a 13-year-old Palestinian girl and then said he would have done the same even if she had been three years old was acquitted on all charges by a military court yesterday.
The soldier, who has only been identified as «Captain R», was charged with relatively minor offences for the killing of Iman al-Hams who was shot 17 times as she ventured near an Israeli army post near Rafah refugee camp in Gaza a year ago.
The manner of Iman's killing, and the revelation of a tape recording in which the captain is warned that she was just a child who was «scared to death», made the shooting one of the most controversial since the Palestinian intifada erupted five years ago even though hundreds of other children have also died.
After the verdict, Iman's father, Samir al-Hams, said the army never intended to hold the soldier accountable.
«They did not charge him with Iman's murder, only with small offences, and now they say he is innocent of those even though he shot my daughter so many times,» he said. «This was the cold-blooded murder of a girl. The soldier murdered her once and the court has murdered her again. What is the message? They are telling their soldiers to kill Palestinian children.»
The military court cleared the soldier of illegal use of his weapon, conduct unbecoming an officer and perverting the course of justice by asking soldiers under his command to alter their accounts of the incident.
Capt R's lawyers argued that the «confirmation of the kill» after a suspect is shot was a standard Israeli military practice to eliminate terrorist threats.
Following the verdict, Capt R burst into tears, turned to the public benches and said: «I told you I was innocent.»
The army's official account said that Iman was shot for crossing into a security zone carrying her schoolbag which soldiers feared might contain a bomb. It is still not known why the girl ventured into the area but witnesses described her as at least 100 yards from the military post which was in any case well protected.
A recording of radio exchanges between Capt R and his troops obtained by Israeli television revealed that from the beginning soldiers identified Iman as a child.
In the recording, a soldier in a watchtower radioed a colleague in the army post's operations room and describes Iman as «a little girl» who was «scared to death». After soldiers first opened fire, she dropped her schoolbag which was then hit by several bullets establishing that it did not contain explosive. At that point she was no longer carrying the bag and, the tape revealed, was heading away from the army post when she was shot.
Although the military speculated that Iman might have been trying to «lure» the soldiers out of their base so they could be attacked by accomplices, Capt R made the decision to lead some of his troops into the open. Shortly afterwards he can be heard on the recording saying that he has shot the girl and, believing her dead, then «confirmed the kill».
«I and another soldier … are going in a little nearer, forward, to confirm the kill … Receive a situation report. We fired and killed her … I also confirmed the kill. Over,» he said.
Palestinian witnesses said they saw the captain shoot Iman twice in the head, walk away, turn back and fire a stream of bullets into her body.
On the tape, Capt R then «clarifies» to the soldiers under his command why he killed Iman: «This is commander. Anything that's mobile, that moves in the [security] zone, even if it's a three-year-old, needs to be killed.»
At no point did the Israeli troops come under attack.
The prosecution case was damaged when a soldier who initially said he had seen Capt R point his weapon at the girl's body and open fire later told the court he had fabricated the story.
Capt R claimed that he had not fired the shots at the girl but near her. However, Dr Mohammed al-Hams, who inspected the child's body at Rafah hospital, counted numerous wounds. «She has at least 17 bullets in several parts of the body, all along the chest, hands, arms, legs,» he told the Guardian shortly afterwards. «The bullets were large and shot from a close distance. The most serious injuries were to her head. She had three bullets in the head. One bullet was shot from the right side of the face beside the ear. It had a big impact on the whole face.»
The army's initial investigation concluded that the captain had «not acted unethically». But after some of the soldiers under his command went to the Israeli press to give a different version, the military police launched a separate investigation after which he was charged.
Capt R claimed that the soldiers under his command were out to get him because they are Jewish and he is Druze.
The transcript
The following is a recording of a three-way conversation that took place between a soldier in a watchtower, an army operations room and Capt R, who shot the girl
From the watchtower [three-way conversation between watchtower soldier, the operations room in another location, and finally, Captain R, the officer on the ground near watchtower «It's a little girl. She's running defensively eastward.» «Are we talking about a girl under the age of 10?» «A girl about 10, she's behind the embankment, scared to death.» «I think that one of the positions took her out.» «I and another soldier … are going in a little nearer, forward, to confirm the kill … Receive a situation report. We fired and killed her … I also confirmed the kill. Over.»
From the operations room «Are we talking about a girl under the age of 10?»
Watchtower «A girl about 10, she's behind the embankment, scared to death.»
A few minutes later, Iman is shot from one of the army posts
Watchtower «I think that one of the positions took her out.»
Captain R «I and another soldier … are going in a little nearer, forward, to confirm the kill … Receive a situation report. We fired and killed her … I also confirmed the kill. Over.»
Capt R then «clarifies» why he killed Iman
«This is commander. Anything that's mobile, that moves in the zone, even if it's a three-year-old, needs to be killed. Over.»
• This article was amended on 1 September 2010, to make explicit that the opening watchtower conversation is between three participants.
Victory for Palestinian Prisoners as 80% of Strike Demands Met
"We know that there is a long struggle to come, for liberation for the prisoners and liberation for Palestine," stated a solidarity network.
After more than 1,500 Palestinian prisoners staged a a mass, historic hunger strike for 40 days, the Palestinian Committee of Prisoners» officials confirmed Sunday that nearly 80 percent of the prisoners' demands were met as the strike ended Saturday.
RELATED: 
Palestinian Prisoner Hunger Strike Ends After 40 Days
Issa Qaraqe, director of the Palestinian Prisoners Affairs Commission, spoke at a press conference Sunday, declaring the victory "an important achievement to build on in the future on the basis of the protection of the prisoners' rights and dignity."
Among the many conditions prisoners wanted to be improved that the Israeli Prisons Service agreed to include expanding access to telephones; lifting the security ban on hundreds of family members of Palestinian prisoners, including the 140 children who were denied visits from parents; allowing distant family members to visit their imprisoned relatives; and improving the conditions of both women and children prisoners.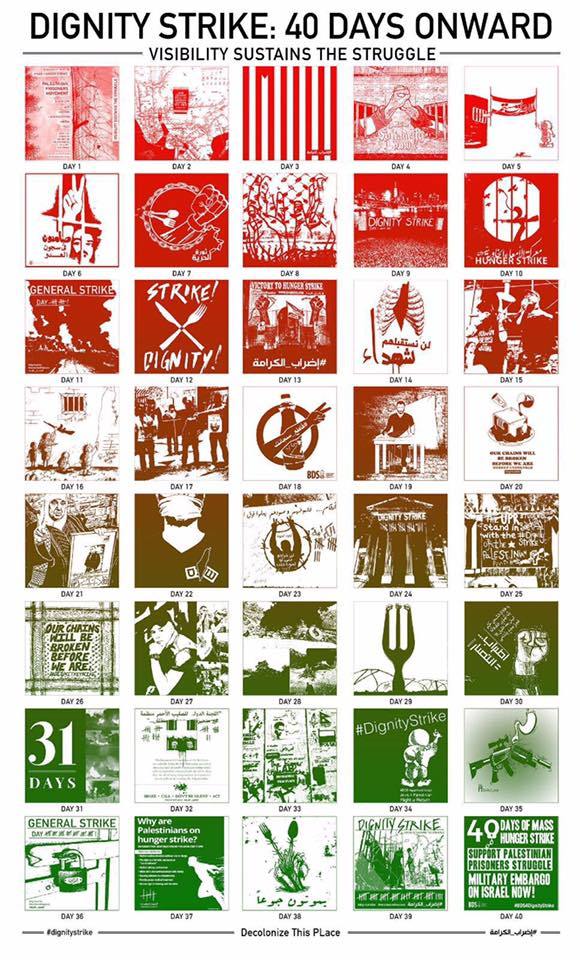 Other met demands include establishing in every prison department a separate kitchen area for the preparation of food; allowing photographs with parents once annually, or with a prisoner's spouse; stocking prison stores with higher-quality goods, including fruits and vegetables; introducing modern recreational equipment in the recreation yards; and transferring prisoners to prisons closer to their families' places of residence.
The end of the strike will also see the return of prisoners who were transferred to their original locations and the lifting of sanctions imposed on hunger-striking prisoners. Additional negotiations will be held around the prisoners' other demands.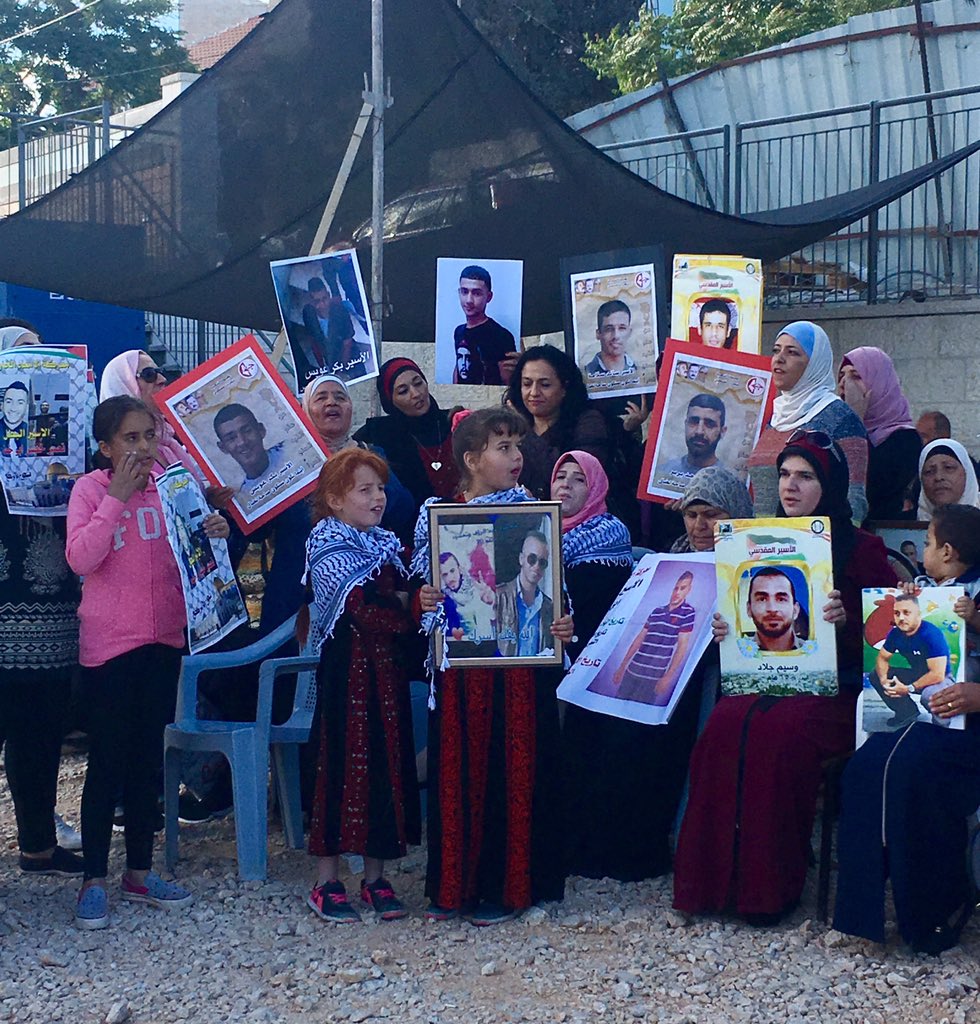 Photo from: BDS Movement
"On this occasion of the prisoners' victory, we know that there is a long struggle to come, for liberation for the prisoners and liberation for Palestine. We urge all of the Palestinian communities, supporters of Palestine and social justice organizers who took to the streets, drank salt water, engaged in hunger strikes, expressed their solidarity and organized across borders and walls to celebrate the victory of the prisoners with events and actions on 4-6 June, in Celebrations of Dignity and Victory," said the Samidoun Palestinian Prisoner Solidarity Network in a statement Sunday.
RELATED: 
'Intifada ad Infinitum': Palestinians Launch Second General Strike in Support of Prisoners
"In these celebrations, we will recognize the power of the Palestinian people to defeat the occupier and the colonizer, honor the prisoners and their steadfastness, and emphasize the ongoing struggle," the group added.
After 40 days, the health of many prisoners was deteriorating rapidly, with 182 striking political prisoners having been hospitalized.
The strike was met with solidarity demonstrations throughout occupied Palestine, and around the world, with near-daily demonstration, rallies, protests and strikes.
——————————————————————————————–
Facebook Disables Accounts of Palestinian Editors
Published on
Friday, September 23, 2016
by
Editors at two of the most widely read Palestinian online publications have had their Facebook accounts disabled.
Administrators for the Facebook pages of Quds, which has more than five million "likes," and Shehab News Agency, which has more than six million, found they could not access their accounts on Friday.
Ezz al-Din al-Akhras, a supervisor at Quds, told The Electronic Intifada that at around 2pm, three of the publication's editors found their accounts disabled.
The same thing has happened to five editors at Shehab News Agency, a news editor for that publication told The Electronic Intifada.
Both organizations are still publishing to Facebook as some editors can still access their accounts.
Censorship
Quds provided this screenshot showing what happened when one of their adminstrators tried to log in to his Facebook account:
Both believe that the suspensions are directly related to an agreement between Facebook and the Israeli government to collaborate in monitoring what Israel claims is "incitement" by Palestinians.
"The joint Facebook-Israel censorship efforts, needless to say, will be directed at Arabs, Muslims and Palestinians who oppose Israeli occupation," The Intercept's Glenn Greenwald wrote of the agreement earlier this month.
"There has been no given reason for closing the accounts," Quds' al-Akhras said. "We believe this is the result of the agreement between Israel and Facebook. It is very strange that Facebook would take part in such an agreement, given that it is supposed to be a platform for free expression and journalism."
Al-Akhras said that it was particularly dismaying that Facebook would take this action as Quds got its start in 2011 as a Facebook-only platform.
It only launched its own website and began using other social media platforms later on.
"We learned what journalism and freedom of expression are using Facebook," al-Akhras said, adding that Quds was the first Palestinian publication to systematically use the platform for crowdsourcing news and verifying events all over Palestine.
Its reports, usually accompanied by photos and videos, are frequently cited by The Electronic Intifada.
Jailing journalists
Over the past year, Israel has tried to blame an upsurge in confrontations between Palestinians in the occupied West Bank, on the one hand, and its soldiers and settlers, on the other, on "incitement" in social media.
It has jailed a number of Palestinians, including journalists, for posting news and criticism of Israel's occupation on Facebook.
Palestinian journalist Samah Dweik was released on Monday after six months in prison for alleged incitement on Facebook.
In July, the Mossad-linked lawfare group Shurat HaDin filed a $1 billion lawsuitagainst Facebook claiming the company serves as a platform for what Israel calls "terrorist groups."
As Greenwald noted, however, the targets have not been "terrorists" but journalists.
The editor at Shehab said that the censorship campaign is likely only in its earliest stages and he would not be surprised if in coming days many more Palestinian journalists and news organizations are targeted.
Quds' al-Akhras said that Facebook's action was not just a matter for Palestinians, but harmed free speech globally.
"This tells any repressive regime that they can rely on Facebook to shut down the media," he said.
A request for comment has been sent to Facebook.
© 2014 Electronic Intifada
UK Police Summon Livni Over Suspected War Crimes
IMEMC – Jul 4th, 2016: Former Israeli Foreign Minister Tzipi Livni has received a summons letter from the British police for questioning regarding suspicion of involvement in war crimes during the Israeli aggression on Gaza in 2008, according to the Israeli daily Haaretz.
The Israeli daily said however, the summons was cancelled after diplomatic contacts between Israel and Britain, at the end of which Livni received immunity, according to WAFA.
A senior official in Jerusalem, speaking on condition of anonymity, told Haaretz that, on Thursday, the Israeli Embassy in London received a letter from the Scotland Yard's war crimes unit, which it asked to deliver to Livni.
The letter noted that the British police was aware that Livni is expected to arrive in London during the weekend and, therefore, is requested to go to the police station for questioning.
The questioning was meant to discuss Livni's involvement in committing war crimes and violations of the Geneva Conventions, as the foreign minister and deputy prime minister, and as a member of the diplomatic-security cabinet during the 2008 Cast Lead operation in Gaza.
To be noted, Israel launched three wars against Gaza in 2008-2009, 2012, and 2014. About 4,000 Palestinians were killed during the three wars, including 1,400 in the Operation Cast Lead aggression in 2008-2009.
Follow-up report:
London High Court Rules in Favor of BDS Groups
IMEMC – Jun 29th, 2016 : A pro-Israel group has lost its legal action against three local authorities who passed resolutions in support of the Palestinians.
Yesterday's High Court, in London, ruling in favor of three councils which have boycotted Israeli settlement goods has been hailed as a "victory for the Palestinian-led boycott, divestment and sanctions campaign and for democracy", according to the PNN.
The landmark ruling is also a rejection of the government's attempts, in February, to stop councils from adopting ethical procurement and investment policies by implying that legal action could be brought successfully against them.
Sara Apps, interim Director of Palestine Solidarity Campaign (PSC), said:
"Today's High Court ruling is an important victory for the Palestinian-led Boycott, Divestment and Sanctions campaign and for democracy itself. Councils have been told categorically by the High Court that there is nothing unlawful in ethically boycotting Israeli settlement goods, and PSC welcomes this ruling.
"The UK government's attempts to intimidate local councils into dropping ethical procurement and investment policies clearly have no legal basis. Councils can legally adopt policies which avoid or end links with Israel's illegal settlements.
"We applaud Leicester, Swansea and Gwynedd councils for standing up for their democratic right to free speech, and we look forward to working alongside them and other councils who choose to adopt policies in support of Palestinian human rights."
The case against Leicester, Swansea and Gwynedd city councils was brought by Jewish Human Rights Watch, which has been ordered to pay the legal costs of all three councils.
Leder av Palestinakomiteen i Norge deportert fra Israel
Publisert den 21. april 2016 av , på Radikal Portal
Trakassert, utskjelt og deportert. På vei til Palestina fikk Kathrine Jensen beskjeden at hun var en fare for Israels sikkerhet.
Lederen av Palestinakomiteen i Norge, Kathrine Jensen, ankom mandag kveld Israel. Å reise til Palestina er ikke ulovlig. Likevel ble hun avhørt, fengslet, trakassert og til slutt; deportert fra Israel av "sikkerhetshensyn". Dette skjer jevnlig på den internasjonale flyplassen.
Lederen av solidaritetsorganisasjonen reiste via flyplassen Ben Gurion for å besøke Palestina. Der ble Jensen utsatt for trakassering hele natten gjennom og er svært kritisk til behandlingen hun fikk.
– Det som skjer på flyplassen er en bevisst strategi fra deres side. De vil bryte folk ned og ydmyke dem mest mulig. Når det står på er det ekstremt ubehagelig. Man går gjennom mange timer med intense avhør hvor de fratar deg muligheten til å hvile, sove, spise og gå på toalettet. Det å bli behandlet som en kriminell er svært uverdig.
Jensen satt flere timer i avhør. Hun forteller hvordan utskjellingen pågikk, der de også fjernet eiendelene hennes og gikk til fysisk angrep da hun forsøkte å dokumentere trakasseringen.
— Det er en åpenbar politisk avgjørelse å nekte meg innreise og deportere meg. Som leder av en organisasjon som støtter palestinerne er jeg ifølge dem, en trussel mot Israels sikkerhet. De er rett og slett livredde for at folk skal se hva de driver med. Den grove trakasseringen er et forsøk på å avskrekke meg og andre fra å reise til Palestina. Det fungerer selvsagt ikke, men gir derimot mer kampvilje. Det er ingen menneskerett å komme inn i et annet land, men det er dypt problematisk at Israel kontrollerer hvem som skal reise inn i Palestina, nekter folk innreise på bakgrunn av deres politiske meninger og kriminaliserer solidaritet.
"Sikkerhetshensyn"
Det skjer jevnlig at mennesker blir nektet innreise til Vestbredden i Palestina. Mange ungdomspolitikere, helsearbeidere, journalister, akademikere, aktivister og solidaritetsarbeidere verden over har blitt nektet innreise – en reise som kun er mulig via israelske grenseoverganger. En tidligere solidaritetsarbeider for Palestinakomiteen skulle til Ramallah for å studere arabisk på universitetet. Hun ble utsatt for samme trakassering som Jensen, anholdt og deportert. Hun måtte gjennom flere omganger med avhør, ble innelåst på et videoovervåket rom der alle eiendelene hennes ble fratatt. Hun fikk ikke mulighet til å kontakte familie eller den norske ambassaden.
Radikal Portal har tidligere publisert denne teksten, der en samfunnsgeograf ble arrestert og sendt i retur til Norge. Han skulle til Palestina for å delta på en konferanse for geografer der han skulle holde et foredrag om planleggingsteori. Han ble vurdert som en "sikkerhetsrisiko" grunnet hans deltakelse i en demonstrasjon på Vestbredden i 2013 og det at han er partner med en iraner fra Sverige. I likhet med han, ble også hun nektet innreise etter å ha forsøkt å nå Nablus – for å jobbe i praksis som lege.
I 2013 ble Maria Wasvik og fire venninner satt i timeslange avhør av bevæpnede vakter. – I over to timer ble jeg sittende der med fem bevæpnede sikkerhetsvakter som hang over meg mens de skjelte meg ut og spurte og gravde om «hvem er du», «hva skal du», «hvem jobber du egentlig for».
Etterretningstjenesten forsøkte å presse dem til å gi innsyn i deres private eposter og sosiale medier. Israelske myndigheter bekreftet i ettertid at dette har de tillatelse til, men kun i tilfeller der annen kriminell aktivitet er avslørt. Målet for reisen til venninnene var en studietur i regi av Høyskolen i Buskerud.
Historier om deportasjon er mange.
– Israel kaller det en «sikkerhetsårsak», men det er helt åpenbart at dette er politisk. Jeg ble hindret innreise fordi jeg har de meningene jeg har, sier Jensen om årsaken til deportasjonen.
Les også: Jeg skulle på konferanse i Palestina
Ulovlig solidaritet
Jensen ble sendt i retur til Istanbul, med strengt vakthold som hindret henne i å bevege seg fritt.
– Det er så vidt jeg har sovet. De har dratt ting ut i så stor grad som overhodet mulig sier en tydelig medtatt leder for Palestinakomiteen på telefon fra Istanbul.
Både Jensen og Wasvik er enige om at det er uholdbart at norske myndigheter ikke reagerer på behandlingen norske statsborgere opplever på Ben Gurion. Det er ikke ulovlig å reise til Palestina, eller å være solidarisk med palestinerne, men gjentatt deportasjon og trakassering av mennesker på flyplassen, gjør at de som vil besøke Palestina tidvis føler det motsatte.
– Det er veldig problematisk hvis Israel forsøker å skremme, eller som nå, forhindrer, folk i å reise til Palestina. Jeg anser Kathrine som omtrent like truende som meg selv, så det er en skandale om norske myndigheter ikke reagerer på dette. Det er ingen tvil om hvilke meninger Kathrine besitter, men det er holdninger som burde være helt innenfor i enhver demokratisk stat, sier Wasvik.
Les også: Splittelsen i Abrahams by
——————————————————————–
Bethlehem Aida camp under siege
October 9, 2015 by 
West Bank tensions escalate as Palestinian refugees mourn the murder of a young boy, Lydia Noon reports.
– See more at: http://newint.org/features/web-exclusive/2015/10/09/bethlehem-aida-camp-under-siege/#sthash.XS1OAyaU.dpuf
In the minutes before an Israeli sniper killed Abed al-Rahman Obeidallah, he may have noticed a large memorial for the 556 children killed during Israel's assault on Gaza last summer.
He certainly would have seen Bethlehem Aida refugee camp's 9-metre long Key of Return – the symbol of Palestinian refugees' right of return – when he pointed his gun at 1.42pm on a sunny afternoon on 5 October.
The soldier, about 40 years of age, knew that 13-year-old Abed was wearing a blue school uniform and carrying a school bag as he looked through the crosshairs of his rifle.
He saw the UN sign above Abed's small 1.6-metre frame when he fired a 0.22 calibre bullet directly at the boy's chest.
For Palestinians, Abed's murder is a reminder that the UN neither protects them in life nor speaks out for them in death.
'All the camp is sad,' says Umm Mohammed, a friend of Abed's mother, Dalal. The mother of 6 fights back her tears. 'He was one of our children.'
Abed's death comes at a time of increased tensions across the West Bank and East Jerusalem. For weeks Israeli rightwing groups have occupied the Al-Aqsa mosque compound, accompanied by Israeli soldiers. Access for Palestinians has been limited and worshippers assaulted.
Israeli forces killed 2 Palestinians in separate shootings in Hebron and Doura village, near Hebron, on 22 September. The following week, on 1 October, 2 Israeli settlers were shot dead by a Palestinian near Nablus; 2 others were killed in East Jerusalem's old city 2 days later. This provoked a violent response from Israeli settlers and the Israeli military.
On 4 October, the Palestinian Red Crescent Society declared a state of emergency after 14 attacks on the Society's ambulances and crew, settler 'price-tag' attacks, and bullets fired by Israeli forces left more than 100 Palestinians injured in 3 days.
Today sees the 9th consecutive day of clashes in Bethlehem between Israeli soldiers and Palestinian youth outside Aida camp (population 6,000), next to Israel's separation wall. Ambulances are on standby and debris, stones, spent rubber bullets and empty teargas canisters line the road. In the camp, residents watch the clashes from their roofs and balconies, running inside when soldiers fire teargas into the camp.
The sense of frustration with the Palestinian Authority and the international community is growing. No-one is sure what will happen next but while the 3 day official mourning period is over, the loss of Abed and the almost certain impunity for his killer will not be forgotten.
—————————————————————————
Israeli Navy Intercepts Ship in Flotilla Sailing Toward Gaza Strip
IDF intel veterans refuse to operate in «occupied Palestine» – open letter
Published time: September 13, 2014 – rt.com

Forty-three veterans from an elite Israeli military intelligence unit have written an open letter refusing to continue operating in the occupied Palestinian territories, as it is aimed at «political persecution» and not the defense of Israel.
The soldiers from Israel Defense Forces intelligence Unit 8200 – many still on active duty – sent the letter to Prime Minister Benjamin Netanyahu on Friday, explaining that they joined the intelligence-gathering unit believing it would protect the State of Israel and not turn into a machine that works to aid the occupation and create divisions within Palestinian society.
«We, veterans of Unit 8200, reserve soldiers both past and present, declare that we refuse to take part in actions against Palestinians and refuse to continue serving as tools in deepening the military control over the Occupied Territories,» they said in the letter, addressed also to the head of the Military Intelligence Directorate and the IDF Chief of Staff.
«It is commonly thought that the service in military intelligence is free of moral dilemmas and solely contributes to the reduction of violence and harm to innocent people. However, our military service has taught us that intelligence is an integral part of Israel's military occupation over the territories.»
They also mentioned how, unlike with Israeli citizens, there is virtually no protection of Palestinians from surveillance, nor any limits to it.
The information gathered, they said, «harms innocent people. It is used for political persecution and to create divisions within Palestinian society by recruiting collaborators and driving parts of Palestinian society against itself.»
They explained that it is a decision based on conscience and a realization that continuing to carry out their duties effectively robs millions of their human rights. The letter was also driven by a sense of «urgency and responsibility,» one captain in the reserves, Daniel, told the Haaretz newspaper.
«In the end, I served there for seven years. I believed in what we did there – and for all those reasons, I must take responsibility for what I see as the perpetuation of the cycle of violence. We hope that people will think critically about these things,» he said.
Israel Radio relayed the reaction of Palestinian intelligence. Their spokesman, Adnan Damiri attested to the positive reception of the IDF signatories? initiative back home, saying that the humanitarian and moral character of their decision was notable and appreciated.
Haaretz also reached the IDF to get some comment on how the letter was perceived.
The official spokesman, explaining the delicate nature of Unit 8200's work and its central role in protecting Israel, went on to state that «the content of [the unit's] training places special emphasis upon the fields of ethics, morals and work procedures. These are put into practice during their service as soldiers and officers of the unit, and they are under the constant supervision of commanding officers of various ranks.»
«The concrete claims made in the report are unknown in the Intelligence Directorate,» he said. «The fact that the alleged signatories of this letter contacted the media before bringing their complaints to their commanding officers or relevant agencies in the army is surprising and raises doubts regarding the sincerity of their claims.»
He told the newspaper that harm to innocent civilians is minimized because of a «long and meticulous» procedure for choosing targets, which «take the topic of uninvolved parties into account.»
This is not the first instance that a complaint was publicly filed by the unit?s own members questioning its methods.
According to The Guardian, a decade-old case involved several pilots who refused to take part in targeted assassination missions. This is seen as a very rare case in the Israeli military, where commitment, as well as a desire to extend the service, seems to be commonplace.
Although those involved told the newspaper they were proud of some of the missions inasmuch as they served to defend Israel, they also pointed to how there was also a culture of impunity which frowned upon questioning the legality of any decisions taken and strategies planned by superiors.
This somewhat contrasts with the IDF spokesman?s words to Haaretz.
The servicemen told The Guardian there were «no rules» regarding the procedure for targeting Palestinians for intelligence purposes or to be used as informants.
One soldier, Nadav, 26, told the British newspaper: «In intelligence in Israel intelligence regarding Palestinians «they don?t really have rights». Nobody asks that question. It's not [like] Israeli citizens, where if you want to gather information about them you need to go to court.»
«The intelligence gathering about Palestinians is not clean. When you rule a population that does not have political rights, laws like we have, [then] the nature of this regime of ruling over people, especially when you do it for many years, [is that] it forces you to take control or infiltrate every aspect of their life,» Nadav said.
Another added that the perception of Israeli intelligence is full of moral misconceptions and that «what the IDF does in the occupied territories is rule another people. One of the things you need to do is defend yourself from them, but you also need to oppress the population.»
All in all, the idea voiced by the soldiers is that without coercion and repression, there can be no governance. Controlling the population this way is a necessary part of compliance, they explained.
From: rt.com/news
Trends
Tags
Conflict, Human rights, Intelligence,Israel, Middle East, Military, Politics,Protest, War
————————————————————————–
AP video journalist Simone Camilli killed in Gaza
By ZEINA KARAM, Associated Press August 13, 2014

BEIRUT (AP) — Simone Camilli was a consummate storyteller — a passionate, talented newsman with an eye for detail and the ability to convey events with powerful video images that touched people around the world.
As an Associated Press video journalist, he covered popes in the serene splendor of the Vatican and the horrific violence on battlefields from the former Soviet republic of Georgia to the Middle East.
But he could also capture the simple joy of a smiling child.
Camilli once said a favorite story of his was about a group of clowns performing for young Syrian refugees, bringing moments of happiness to the lives of the boys and girls who fled the civil war.
The 35-year-old newsman was killed Wednesday in the Gaza Strip while reporting on the aftermath of Israel-Hamas war — the first foreign journalist to die in the Gaza conflict that began last month.
He was killed in a blast as police were defusing unexploded ordnance. The explosion also killed a freelance Palestinian translator, as well as four Gaza police engineers trying to neutralize the explosives. Four people, including AP photographer Hatem Moussa, were badly injured.
"He was a very good cameraman and editor and a lot of his best work was not from the battlefield. He was passionately interested in art and music, and it was in these areas that he turned in some of his best work," said Chris Slaney, former senior producer in Jerusalem.
Camilli's death came at the peak of a thriving career full of promise.
An Italian national, he had worked for the AP since being hired as a freelancer in Rome in 2005 while taking Islamic studies and learning Arabic at Sapienza University. One of his first assignments was covering the illness of Pope John Paul II.
He covered major stories across Europe, including the independence of Kosovo, the war in Georgia and the arrest of Bosnian Serb military leader Radko Mladic. He also had assignments in some of the world's most violent conflict zones in Lebanon, Iraq, Israel and the Palestinian territories.
"Simone was well known throughout Europe, and especially to our video team in London, where his death has hit AP deeply," Gary Pruitt, the AP's chief executive, said in a memo to the staff.
Camilli relocated to Jerusalem in 2006, and often covered assignments in Gaza, and moved to Beirut in early 2014.
He was a welcome face in Gaza and loved the story so much that he recently turned down an assignment in Iraq to cover the seaside strip, said Najib Jobain, the AP's chief producer in Gaza. He said Camilli was like a brother.
"He was so happy to be with me working in Gaza," Jobain said. "He was asked, 'Do you want to go to Irbil or Gaza?' He said, 'I'll go to Gaza.'"
Other colleagues around the world remembered Camilli as a warm, charming and sensitive man who wanted to be where the news was.
"From the moment he arrived in the Rome bureau, he wanted to learn everything, falling in love with the job," said Maria Grazia Murru, senior producer in Rome.
"He wanted to learn everything and be the first," she said. "I had the greatest admiration for him and what he was doing. I will miss his enthusiasm, his Roman accent and his smile."
Camilli arrived in Jerusalem in the summer of 2006, amid a surge in the conflict between Israel and Hezbollah.
While in Jerusalem, Camilli became involved with two Palestinian partners in running an exhibition space and workshop for young artists, Slaney said.
"Simone was largely self-taught in the visual sense, and whenever I was faced with some tricky problem that with 30 years of professional experience I couldn't solve, he was my go-to guy in editing and image manipulation," he said.
While in Beirut, Camilli produced warm and heartbreaking pieces about the more than 1 million Syrians who have fled to Lebanon in the past three years from a war that has ripped apart their homeland.
His work had "an incredible eye for detail and was able to personalize stories and portray human drama," said Tomislav Skaro, the AP's Middle East regional editor for video.
Camilli's pieces in Gaza told "the narrative of a destroyed Strip trying to get back to life," Skaro said.
"He was incredibly calm, mature beyond his age, gentle and the friend that everybody wants to have," he added.
Camilli is survived by a longtime partner and a 3-year-old daughter in Beirut, as well as his parents in Italy and two sisters.
The day before he left Beirut for Jerusalem and what would be his final assignment in Gaza, Camilli spoke happily over coffee about his recent vacation in Pitigliano, Italy, where his father, Pier Luigi Camilli, is mayor of the Tuscan town of about 4,000 people between Florence and Rome.
He sported a new haircut, which made him look younger and more mischievous. But then he gave his signature timid smile, eager to get to his new story.
Diaa Hadid, a longtime colleague who worked with Camilli most recently in Irbil, described him as a "warm, lovely, funny."
"I can't think of the past tense and Simone," she said.
Copyright 2014 The Associated Press.
——————————————————————————
How the War in Gaza Could Have Been Avoided
August 12, 2014
This article originally appeared at TomDispatch.com. To stay on top of important articles like these, sign up to receive the latest updates from TomDispatch.com.
Alongside the toll of death and broken lives, perhaps the saddest reality of the latest Gaza war, like the Gaza wars before it, is how easy it would have been to avoid. For the last eight years, Israel and the US had repeated opportunities to opt for a diplomatic solution in Gaza. Each time, they have chosen war, with devastating consequences for the families of Gaza.
Let's begin in June 2006, when the University of Maryland's Jerome Segal, founder of the Jewish Peace Lobby, carried a high-level private message from Gaza to Washington. Segal had just returned from a meeting with Ismail Haniyeh, whose Hamas faction had recently won free and fair elections and taken power in Gaza. Hamas was seeking a unity government with the rival Fatah faction overseen by Mahmoud Abbas.
The previous year, Israel had withdrawn its soldiers and 8,000 settlers from Gaza, though its armed forces maintained a lockdown of the territory by air, land and sea, controlling the flow of goods and people. Gazans believed they were trapped in the world's largest open-air prison. For generations they had lived in overcrowded refugee camps, after their villages were depopulated by Israel and new Israeli cities built on their ruins in the years that followed Israel's birth in 1948. By voting for Hamas in 2006, Palestinians signaled their weariness with Fatah's corruption and its failure to deliver an independent state, or even a long-promised safe passage corridor between the West Bank and Gaza. In the wake of its surprise election victory, Hamas was in turn showing signs of edging toward the political center, despite its militant history.
Nevertheless, Israel and "the Quartet"—the United States, the European Union, Russia and the United Nations—refused to recognize the outcome of the democratic elections, labeling Hamas a "terrorist organization," which sought Israel's destruction. The administration of George W. Bush strongly pressured Abbas not to join a unity government. The Quartet suspended economic aid and Israel severely curtailed the flow of goods in and out of Gaza.
"It's like meeting with a dietician," remarked Dov Weisglass, a top aide to Israeli Prime Minister Ariel Sharon. "We have to make [Gazans] much thinner, but not enough to die." Only years later did researchers prove that Weisglass was speaking literally: Israeli officials had restricted food imports to levels below those necessary to maintain a minimum caloric intake. Child welfare groups began to report a sharp rise in poverty and chronic child malnutrition, anemia, typhoid fever and potentially fatal infant diarrhea. Human rights organizations denounced the measures as collective punishment. Avi Shlaim, a veteran of the Israeli army, author of numerous books on Middle East history, and professor of international relations at the University of Oxford, wrote:
America and the EU [European Union] shamelessly joined Israel in ostracizing and demonizing the Hamas government and in trying to bring it down by withholding tax revenues and foreign aid. A surreal situation thus developed with a significant part of the international community imposing economic sanctions not against the occupier but against the occupied, not against the oppressor but against the oppressed. As so often in the tragic history of Palestine, the victims were blamed for their own misfortunes.
These punitive measures were to remain in place until Hamas renounced violence (including stopping its cross-border rocket attacks), recognized Israel, and accepted all previous agreements based on the Oslo peace accords.
Which brings us back to that Washington-bound letter from Gaza. In the wake of the elections, Hamas was no longer the militant opposition to a ruling Fatah party, but a legally elected government operating under siege. Hamas leader Ismail Haniyeh, suddenly responsible for governing and facing a mounting economic, humanitarian and political catastrophe, sought to defuse the situation. In his June 2006 hand-written note to President Bush that Jerome Segal delivered to the State Department and the National Security Council, he requested a direct dialogue with the administration.
Despite Hamas's charter calling for the elimination of Israel, Haniyeh's conciliatory note to the American president conveyed a different message. "We are so concerned about stability and security in the area that we don't mind having a Palestinian state in the 1967 borders and offering a truce for many years," Haniyeh wrote to Bush. This essentially added up to an offer of de facto recognition of Israel with a cessation of hostilities—two of the key US and Israeli demands of Hamas.
"The continuation of this situation," Haniyeh wrote to Bush, "will encourage violence and chaos in the whole region."
A few lonely voices in the United States and Israel urged that the moment be seized and Hamas coaxed toward moderation. After all, Israel itself had been birthed in part by the Irgun and Stern Gang (or Lehi), groups considered terrorist by the British and the UN. In the years before Israel's birth, they had been responsible for a horrific massacre in the Palestinian village of Deir Yassin and the Irgun bombing of the King David Hotel, killing ninety-one people. Leaders of the two organizations, Menachem Begin and Yitzhak Shamir, later became prime ministers of Israel. Similarly, Yasser Arafat, whose Palestine Liberation Organization was considered a terrorist group by Israel and the West, recognized Israel's right to exist in a pivotal 1988 speech, paving the way for the Oslo peace process.
"I believe there is a chance that Hamas, the devils of yesterday, could be reasonable people today," declared Efraim Halevy, former director of the Mossad, Israel's CIA. "Rather than being a problem, we should strive to make them part of the solution."
The Bush team, however, chose to ignore Hamas's overture, opting, with Israel, for violence and chaos. The Obama administration would follow the same path years later. In this way, a pattern of US acquiescence in ongoing, ever worsening humanitarian disasters in Hamas-run Gaza was established. Direct American political and material support for the indiscriminate killing of thousands of Gaza's civilians, including hundreds of children, became Washington's de facto policy.
A US-Israeli Military-Industrial Alliance
Three weeks after Haniyeh's unanswered letter was delivered, Hamas abducted an Israeli soldier, Gilad Shalit, and fired rockets into Israel. Israel launched a massive retaliation, Operation Summer Rains, returning to a fearsome and bloody history in Gaza that would repeat itself with greater intensity in the years ahead. Israeli missiles and fighter jets destroyed the offices of the prime minister and interior minister, the American International School, more than 100 other buildings, and heavily damaged Gaza's only power station, the sole source of electricity for hundreds of thousands of Gazans.
During that operation, many Palestinians were limited to one meal a day, eaten by candlelight. More than 200 Palestinians were killed in the first two months of the conflict, at least forty-four them children. Eleven Israelis died during that period. And yet, bad as it was, the death and destruction then would prove small compared to what was still to come.
Since Summer Rains, more than 4,200 Gazans, including nearly 1,400 non-combatants, including more than 600 children, have been killed by missiles, bombs and other munitions—some launched from offshore by Israel's navy, some from land by Israeli tanks and ground forces, and some from the air by American-made F-16 fighter jets and Apache attack helicopters, part of the $3 billion in annual US military aid to Israel. This includes the $276 million in bombs, grenades, torpedoes, rocket launchers, guided missiles, howitzers, mortars, machine guns, shotguns, pistols, cartridges, bayonets and other battlefield weaponry that the United States has exported to Israel since January 2012.
This US-Israeli military-industrial alliance has provided little incentive to explore peaceful or diplomatic alternatives. In 2007, Hamas and Fatah again discussed forming a unity government. Washington responded with heavy pressure on Mahmoud Abbas. American officials, through Secretary of State Condoleezza Rice, had already been facilitating military training and arms shipments to his Fatah faction in Gaza. They wanted to bolster its capabilities against Hamas, allowing the US's favored Fatah leader in Gaza, strongman Mahmoud Dahlan, to take control.
This scenario, laid out in "The Gaza Bombshell," a 2008 Vanity Fair piece by David Rose, and elsewhere, was confirmed to me by an American official stationed at the US Embassy in Tel Aviv at the time. Eventually, said Norman Olsen, a former State Department official and twenty-six-year foreign service officer, the unity talks collapsed, "but not before Dahlan's undisciplined fighters engaged in months of open protection rackets, extortion, kneecappings, car-jackings, and abductions." Olsen knows the territory: he spent four years at the US Embassy in Tel Aviv covering the Gaza Strip, making hundreds of daily trips there, and later served as chief of the embassy's political section, and as special adviser on the peace process to the US ambassador.
Word of the American plan was leaked to an Arabic-language newspaper. Street battles between Fatah and Hamas erupted in Gaza. The "Battle of Gaza" took more than 100 lives. In the end, Hamas police and militants, according to Olsen, "drove Dahlan's fighters from the Strip, established order, and restored the ability of Gaza residents to move about safely."
Taken in by Dahlan's bravado, American officials were initially encouraged by the fighting. "I like this violence," a senior American Middle East envoy told his UN counterpart, Alvaro de Soto, according to a confidential "End of Mission Report" leaked to The Guardian. Israeli officials also saw opportunities in the de facto Palestinian civil war. Israel's director of military intelligence, according to a State Department cable later published by WikiLeaks, told the American ambassador in Tel Aviv that a Hamas victory would allow Israel "to treat Gaza" as a separate "hostile country," and that he would be "pleased" if Abbas "set up a separate regime in the West Bank."
Indeed, as Hamas routed Dahlan's Fatah forces, taking full control of Gaza, the two Palestinian sides—and their populations in the West Bank and Gaza—were physically separated and politically weakened. Despite the language of peace negotiations, ostensibly meant to create a "viable, contiguous" Palestinian state, the fractured reality appeared to be part of a deliberate Israeli strategy. Statehood for Palestinians seemed ever more a mirage.
In the coming years, the prospects of Palestinian unity—both physical and political—remained bleak. US-brokered peace negotiations focused only on the fragmented West Bank, while Israel did indeed treat Hamas-controlled Gaza as a separate, "hostile country." It countered Hamas rocket attacks with repeated air strikes and assassinations of Hamas leaders and lower-level operatives.
The two sides agreed to a ceasefire in 2008. Again, a lonely voice in Israel's security establishment urged engagement with Hamas. Retired Brigadier General Shmuel Zakai, former commander of the Israeli Defense Force's Gaza division, urged his country "to take advantage of the calm to improve, rather than markedly worsen, the economic plight of the Palestinians in the [Gaza] Strip.… You cannot just land blows, leave the Palestinians in Gaza in the economic distress they are in, and expect Hamas just to sit around and do nothing."
Ignoring such advice, Israel broke the truce on November 4, 2008, Election Day in America, by bombing tunnels on the Gaza-Egypt border, the only means for Gazans to secure goods during the years-long Israeli blockade, and killing six Hamas operatives. The back and forth of rockets and retaliation led to Operation Cast Lead, in which Israel killed more than 1,300 Palestinians, including fourteen children taking refuge in a UN school and several dozen police cadets marching in their graduation ceremony, and destroyed or damaged 22,000 buildings in Gaza. Thirteen Israelis died, three of them civilians. Tzipi Livni, Israel's foreign minister and a candidate for prime minister, declared,"Hamas now understands that when you fire on its citizens [Israel] responds by going wild—and this is a good thing."
The American-Israeli alliance, meanwhile, continued to strongly oppose any attempts to move in the direction of Palestinian unity. This, despite sporadic efforts at reconciliation between Fatah and Hamas, and the desire of ordinary Gazans and West Bankers alike to end their isolation through a long-promised corridor between the two disconnected territories.
By early 2014, Hamas's motivation for forging a unity pact had grown stronger. War and political change in the region meant it could no longer rely on financial or military support from Iran, Syria, or especially Egypt, whose new military rulers had realigned policy in a way that put them closer to Israel than Hamas. As a result, in April, Hamas and Fatah signed a unity agreement. Hamas was again sending a clear message of its willingness to engage in political compromise, this time agreeing to turn over unprecedented power in the reconciliation government.
It was an opportunity for Israel. As analyst Nathan Thrall of the International Crisis Group pointed out in a July 17 op-ed in The New York Times,
the government could have served Israel's interests. It offered Hamas's political adversaries a foothold in Gaza; it was formed without a single Hamas member; it retained the same Ramallah-based prime minister, deputy prime ministers, finance minister, and foreign minister; and, most important, it pledged to comply with the three conditions for Western aid long demanded by America and its European allies: nonviolence, adherence to past agreements, and recognition of Israel.
This was far more than Hamas leader Haniyeh had offered in his 2006 overture to Bush. It met the core Western and Israeli demands of Hamas almost to the letter. Implementing it could have led to a new kind of "quiet" between Hamas and Israel, a stronger Palestinian government, and a stronger, if still fleeting, chance for a viable Palestinian state including both Gaza and the West Bank, with East Jerusalem as its capital.
Israel was not interested. The day after the unity accord was announced, Prime Minister Benjamin Netanyahu suspended already moribund peace negotiations, declaring that Hamas was "a terrorist organization bent on the destruction of Israel."
A few weeks later, after three Israeli teenagers were abducted and murdered on the West Bank, Israel blamed Hamas and launched Operation Brother's Keeper. The Israeli military searched 2,200 West Bank Palestinian homes and arrested more than 400 Palestinians, mostly Hamas members, holding at least 150 people without charges. Yet reports indicated that less than 10 percent of those taken in were even questioned about the kidnapping.
Given accounts indicating that the Israeli authorities knew within a day that the teens had been murdered (though they didn't announce it for two weeks), it appears that Netanyahu's government was simply using the pretext of the kidnappings as yet another attempt to crush Hamas. Meanwhile, that organization uncharacteristically denied any involvement in the act and Israel has yet to offer evidence Hamas leaders ordered it or knew about it in advance. On the contrary, an Israeli police spokesman appeared to confirm reports that Hamas leaders had no prior knowledge of the plan.
By the time this was revealed, however, Hamas had already responded to the Israeli incursions on the West Bank with rockets from Gaza, and Israel, in its typically disproportionate way, had unleashed an unprecedented assault on Hamas—and on the people of Gaza. Again, Israel had chosen war over any other possible path, with full American backing and military hardware.
On July 30, amid growing calls in the international community for war crimes investigations, and four hours after the Obama administration itself condemned the Israeli shelling of a UN shelter and the deaths of twenty civilians, the Pentagon approved a restocking of American-made ammunition for Israel's arsenal. "It is deeply cynical for the White House to condemn the deaths and injuries of Palestinians, including children, and humanitarian workers, when it knows full well that the Israeli military responsible for such attacks are armed to the teeth with weapons and equipment bankrolled by US taxpayers," said Brian Wood, head of Arms Control and Human Rights at Amnesty International.
In all of this, of course, Hamas is far from blameless. Its launching of thousands of rockets is a clear violation of international law. However, in 2014, as in 2006, 2008–09, and 2012, the sheer volume of destruction and death on each side is incomparable. In 2014, Israeli's sophisticated lethal power, in the form of tens of thousands of tons of bombs, missiles and artillery shells rained down on Gaza, killing nearly 1,400 civilians by UN estimates. Sixty-four Israeli soldiers and more than 530 Gaza militants have also died. Hamas's mostly primitive rockets, some homemade in Gaza metal workshops and others relying on Soviet-era technology, have managed to terrorize Israelis, but that country's civilian death toll in the Gaza war of 2014 has been three.
Trauma and Cold-Eyed Calculation
It is hard to imagine how Israel's behavior could possibly make the country safer in the long run, given the eternal enmity it has been sowing, no matter how many Hamas tunnels it destroys in the short term. Given this, why do such indiscriminate attacks continue? The answers, I believe after years spent in the region, lie in the psychology of the Israeli state, as well as in the cold calculations of its leaders.
Israel remains a deeply traumatized society whose profound anxieties are based in part on genuine acts of horror perpetrated by countless terrorist attacks over decades, and partly on an unspeakable past history in Europe. The Holocaust and its teaching in Israel have forged an existential fear of annihilation in Israeli Jewish society. (Twenty percent of Israel's population, it's important to remember, is Palestinian Arab.) This is true even among the large percentage of Sephardic Jews, whose families came from the Middle East and the Balkans. In recent images of terrorized Israelis crouching in shelters and by roadsides, we can see that the post-traumatic impact of the past lives on.
Israel's leaders have not been shy to exploit these fears. Yet as the late Palestinian intellectual and Columbia University professor Edward Said asked twenty years ago in The Politics of Dispossession:
How long can the history of anti-Semitism and the Holocaust be used as a fence to exempt Israel from arguments and sanctions against it for its behavior towards the Palestinians? How long are we going to deny that the cries of the people of Gaza…are directly connected to the policies of the Israeli government and not to the cries of the victims of Nazism?
Tragically, Israeli fears have created a national justification for a kind of "never again" mentality gone mad, in which leaders find it remarkably easy to justify ever more brutal acts against ever more dehumanized enemies. At the funeral for the three slain teens, Benjamin Netanyahu declared, "May God avenge their blood." An Israeli Facebook page, "The People of Israel Demand Revenge," quickly garnered 35,000 likes. A member of the Knesset from a party in the nation's ruling coalition posted an article by Netanyahu's late former chief of staff that called for the killing of "the mothers of [Palestinian] martyrs" and the demolition of their homes: "Otherwise, more little snakes will be raised there."
On NPR, Ron Dermer, Israel's ambassador to the United States, decried the "culture of terrorism" in Palestinian society, adding: "You're talking about savage actions.… In the case of Israel, we take legitimate actions of self-defense, and sometimes, unintentionally, Palestinian civilians are harmed." That day, the Palestinian teenager Mohammed Khdeir was abducted and burned alive, and soon afterward, Israel began bombing Gaza.
Within Israel, the act of dehumanization has become institutionalized. These days, Israeli newspapers generally don't even bother to print the names, when known, or the stories of the children being killed in Gaza. When B'tselem, the respected Israeli human rights organization, attempted to take out an advertisement on Israeli radio naming names, the request was denied. The content of the ad, censors declared, was "politically controversial."
Yet all of this is still not sufficient to explain Israel's violent abandon in Gaza and previously (to a lesser extent) in the West Bank during the Second Intifada. Netanyahu and before him Ariel Sharon have been bent on destroying any possibility of a future Palestinian state. In 2002, Sharon used the pretext of an especially horrific suicide bombing to launch Operation Defensive Shield in the West Bank, which, in the words of New York Times reporter Serge Schmemann, "devastated…the infrastructure of life itself and of any future Palestinian state—roads, schools, electricity pylons, water pipes, telephone lines."
As Edward Said wrote at the time:
What antiterrorist purpose is served by destroying the building and then removing the records of the Ministry of Education, the Ramallah Municipality, the Central Bureau of Statistics, various institutes specializing in civil rights, health, and economic development, hospitals, and radio and television stations? Isn't it clear that Sharon is bent not only on 'breaking' the Palestinians but on trying to eliminate them as a people with national institutions?
In a similar fashion, Israel's recent attacks on Gaza hospitals, schools, the area's only power plant, UN schools and other facilities housing refugees with nowhere else to go, and tens of thousands of civilian buildings have set back any future statehood efforts by years, if not decades.
In other words, Israel's decisions in Gaza can be seen partly as the response of a traumatized country, but also as its leaders' cold-eyed pursuit of a larger strategic objective—what the Israeli writer Meron Benvenisti calls a "splintering strategy." Destroying Hamas, or at least the basis for the unity agreement with Fatah, would assumedly help guarantee that the West Bank and Gaza will remain isolated, unconnected by the corridor promised during the Oslo process.
With Gaza in ruins, the West Bank is ever more "splintered" itself. There, Israeli state policies encouraging settlement expansion—including a series of financial incentives that make it cheaper to be a settler than a city dweller—have served to isolate Palestinians in ever more cutoff cantons, controlled by hundreds of roadblocks, checkpoints and roads reserved for settlers and VIPs. Meanwhile, Israel's hardening position in negotiations with Abbas, the weak and unpopular leader of a rump Palestinian Authority in the West Bank, has placed huge swaths of settlement blocs and miles of the Jordan Valley off limits for a future Palestinian state—unless the United States or another party intervenes to change the status quo.
In other words, the destruction of Gazan neighborhoods and significant aspects of the area's infrastructure should be seen as part of Israel's larger objective: dividing Palestinians from one another and so deep-sixing the possibility of genuine self-determination. As early as 1973, Ariel Sharon, one of the founders of the Likud party and a champion of the settler movement, described his aim as putting so many settlements on the West Bank that they would become impossible to remove.
Three decades later, Sharon and his advisers had essentially realized that strategy. In a 2004 letter to Sharon, President Bush wrote that, "in light of new realities on the ground, including already existing major Israeli population centers [i.e., settlements], it is unrealistic" to forge a two-state solution based on the 1967 borders between Israel, the West Bank and Gaza.
Three years later, Sharon disengaged from Gaza and turned his full attention to protecting the West Bank settlers by making sure the peace process went nowhere. "By freezing the peace process," explained top Sharon aide Dov Weisglass, "you prevent the establishment of a Palestinian state, and you prevent a discussion on the refugees, the borders, and Jerusalem. Effectively, this whole package called the Palestinian state, with all that it entails, has been removed indefinitely from our agenda."
On July 11, Prime Minister Netanyahu more formally clarified Israel's intentions. "There cannot be a situation, under any agreement, in which we relinquish security control of the territory west of the River Jordan," Netanyahu stated. For anyone weak on his or her Middle Eastern geography, that is an area that includes all of the West Bank. In other words, Israel, finally, officially has no interest in a two-state solution.
Did Hamas Win the Gaza War of 2014?
Throughout much of its history, Israel has made a practice of engaging in overwhelmingly disproportionate response—"going wild," to quote Tzipi Livni—in response to threats real or perceived. In recent years, this strategy has also had a way of backfiring, notably in 2006, when Hezbollah emerged stronger after Israel's invasion of Lebanon.
With its latest onslaught in Gaza, Israel may again be emboldening an enemy while creating worldwide sympathy for the Palestinian people, momentum for global boycotts and an embittered generation of young Palestinians with, undoubtedly, revenge in their hearts.
At this writing, the outcome of indirect negotiations between Hamas and Israel is impossible to predict. Hamas's hand was strengthened, however, by calls within Israel for direct talks with the Islamic organization and by increasing international calls for an end to Israel's blockade. Fatah leaders, meanwhile, have spoken out recently in support of the unity agreement, thus strengthening prospects for long-time reconciliation between Hamas and Fatah—the very condition Israel went to such lengths to destroy.
In other words, Hamas could end up "winning" the Gaza war of 2014, though the losers, as always, are the people of Gaza.
Read: Is another Intifada possible in the West Bank?
Reblogged from: thenation.com
———————————————————————————————–
Nrk: Publisert 22.07.2014
Livet på Gazastripen har helt siden 1948 vært et speilbilde av begivenhetene på verdensarenaen og temperaturen i den palestinske motstandskampen mot Israel.
Den 40 kilometer lange og ti kilometer brede stripen som ligger langs Middelhavet mellom Israel og Egypt har en lang og stolt historie.
Gaza by var i flere tusen år et viktig handelssenter, som samlingspunkt både for handelskaravaner over Den arabiske halvøy og skipstrafikk over Middelhavet til og fra det sørlige Europa.
Området var skiftevis underlagt egyptisk, assyrisk, babylonsk, persisk og jødisk styre.
Krigen som definerte området
I 1947 vedtok FN at jødene skulle få sin egen stat, i det som var det britiskstyrte mandatområdet Palestina. Vedtaket bygget på en deklarasjon fra 1917, med ideen om et nasjonalt hjem for jødene i Palestina.
Jødene skulle ifølge FNs delingsplan få 57 prosent av landarealet, araberne 43 prosent.
Gaza og Vestbredden var områder som var tiltenkt den nye arabiske staten i FNs delingsplan.
Jerusalem skulle, på grunn av sin viktige rolle både for kristendommen, jødedommen og islam, skilles ut som egen enhet under internasjonal kontroll.
Delingsplanen la for øvrig ikke opp til noen forflytning av innbyggere. Det betydde at jøder ville kunne bo i den nye arabiske staten og arabere tilsvarende i den jødiske staten.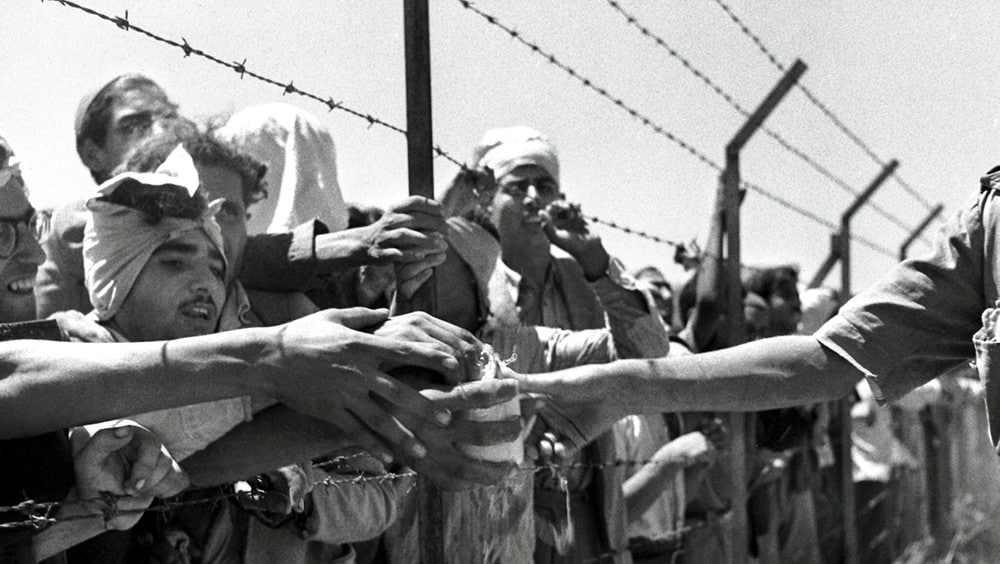 14. mai 1948 ble staten Israel ensidig erklært opprettet fra jødisk hold. Dagen etter, 15. mai, gikk hærstyrker fra Egypt, Irak, Jordan og Libanon inn i Palestina, slik de hadde truet med hvis erklæringen om en statsopprettelse kom.
Jødiske soldater svarte med kamp, og i august samnme år var hele det som hadde vært det britiskstyrte Palestina unntatt Gaza og Vestbredden, under israelsk kontroll.
Den arabiske siden maktet ikke på grunn av interne uenigheter å etablere en tilsvarende stat som den israelske, og det endte med at Jordan fikk kontrollen over Vestbredden og Øst-Jerusalem mens Gazastripen ble underlagt Egypt.
Grensene mot Israel ble fastlagt i en våpenstillstandsavtale i 1949, og Palestina opphørte med det å eksistere som en geografisk enhet.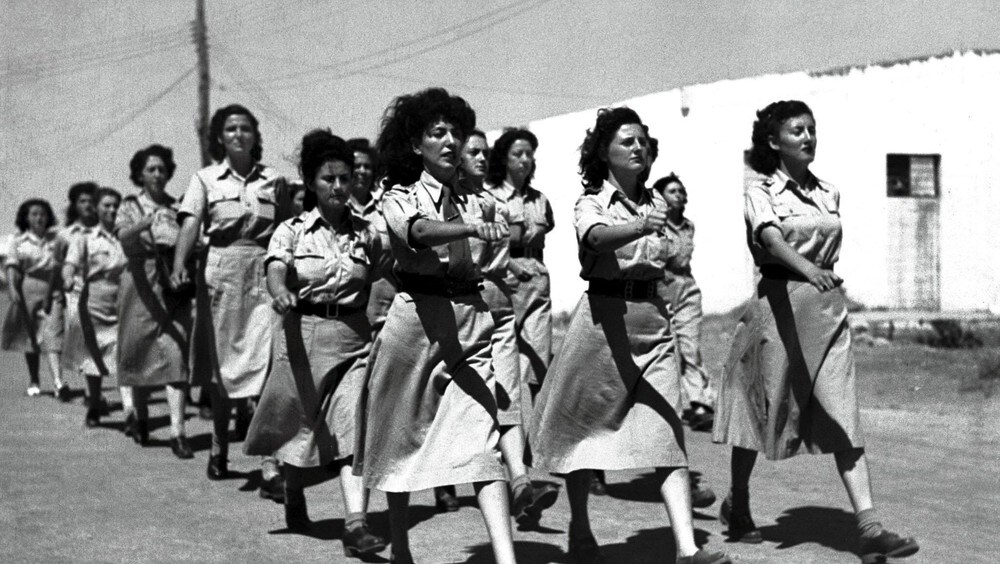 Flyktningleirene som ble bydeler
Krigen, som palestinerne fortsatt betegner som katastrofen eller «naqbah», førte til en strøm av fordrevne innbyggere. Vel 300.000 arabiske palestinere måtte forlate sine hjem, før, under og etter krigen.
En stor andel endte på Vestbredden og Gazastripen, andre dro til naboland som Jordan, Syria og Libanon. Mange av de fordrevne palestinerne ble plassert i hastig FN-opprettede flyktningleire.
Åtte av de største leirene ble lagt til den lille stripen langs Middelhavet.
I 1967 kom en ny avgjørende krig, Seksdagerskrigen, hvor Israel erobret Gazastripen fra Egypt og Vestbredden fra Jordan. Gjennom denne okkupasjonen overtok også Israel det økonomiske og sikkerhetsmessige ansvaret for sivilbefolkningen, noe som varte helt frem til 2004–2005.
Byrden som ble pålagt det en gang så blomstrende handelssentrumet er tydelig.
Området er ett av verdens tettest befolkede områder. 1,5 millioner er presset inn på den tynne stripen, som regnes som «overbefolket». Bare Monaco og Singapore ligger foran på listen.
De åtte flyktningleirene er blitt permanente bosettinger, med over 500.000 innbyggere, mange i fjerde, femte og sjette generasjon. 80 prosent av innbyggerne på Gazastripen har flyktningstatus. Det tilsvarende tallet for Vestbredden er 30 prosent.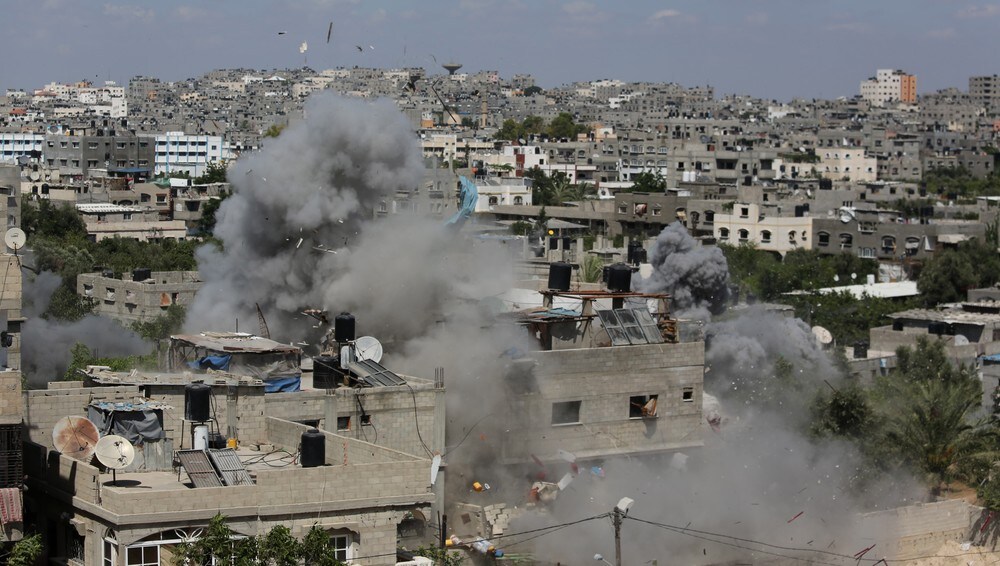 Inn og ut av Gazastripen
Lenge kunne palestinere reise fritt mellom Gazastripen, Israel og Vestbredden. Mange fikk etter hvert arbeid i Israel. Daglig pendlet de inn og ut mellom Gaza og andre israelske steder, eller til og fra de arabiske golfstatene.
Andre fant inntekter til livsopphold innenfor det palestinske samfunnet, enten i jordbruket, som tradisjonelt har sysselsatt rundt 85 prosent av arbeidsstyrken, eller i den lille industrien som var blitt bygget ut under britisk og egyptisk styring.
Men spesielt flyktningene har vært avhengig av FN og andre internasjonale organisasjoner for å kunne livberge seg og familien.
Selv om Gaza-beboerne i likhet med dem som bodde på Vestbredden utenom periodene med avstengning og isolasjon, kunne reise inn og ut av Israel for å arbeide, var det Israel som okkupasjonsmakt som dikterte premissene.
Et opprør mot den israelske okkupasjonsmakten i 1971 førte til at flere tusen personer fra Gazastripen ble deportert til andre flyktningleire, i Sinai i Egypt og i Jordan.
Og fra 1977, under et nytt politisk styre, endret Israel sin bosettingspolitikk, noe som førte til langt flere jødiske bosettinger i de palestinske områdene. På Gazastripen ble det anlagt 21 nybyggerkolonier.
I 1994 fikk Gazastripen sammen med byen Jeriko indre selvstyre, som de første områdene i henhold til Osloavtalen som ble inngått året før.
10 år senere, i februar 2004, erklærte Israel og daværende statsminister Ariel Sharon at alle israelske styrker skulle trekkes tilbake fra Gazastripen. I tillegg skulle alle de jødiske bosettingene fjernes.
Stripen fikk til og med en egen internasjonal flyplass, som riktignok ble stengt av Israel kort tid etter åpningen og har forblitt stengt siden. Den gav uansett håp om en ny tid, selv om Israel fortsatt hadde full kontroll over alle tilfartsveiene og grensepostene og over sjø- og luftrommet.
I september 2005 var den siste israelske soldaten ute fra Gazastripen. Men det ble ingen ny blomstrende fremtid. I stedet gikk det fra vondt til verre.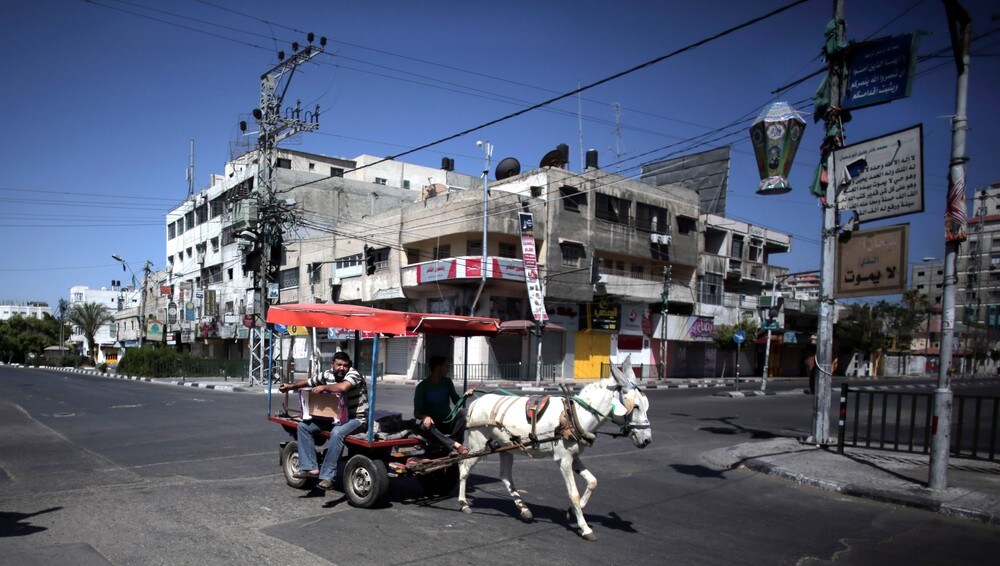 Stengte grenser
Den første intifadaen, det langvarige palestinske opprøret som startet i 1987 på Gazastripen og Vestbredden, og det palestinske lederskapets støtte til Irak under Golfkrigen i 1991, endret livsvilkårene for svært mange palestinere.
Israel stengte i perioder av hele Gazastripen og Vestbredden. Innbyggerne ble isolert, og folk fikk problemer med å skjøtte arbeidet sitt enten det var i Israel eller utenlands.
Men selv etter den første intifadaen hadde over 100.000 palestinere (en tredel av arbeidsstyrken på Gaza og Vestbredden) arbeid i Israel.
For mange var avhengig av å finne sysselsetting innenfor den israelske økonomien, gitt at det i de palestinske områdene hadde vært betydelig mindre økonomisk og industriell utvikling enn i «kjerne-Israel». Ikke minst i flyktningområdene var det stillstand.
Den store økonomiske knekken for palestinerne kom likevel etter Al Aqsa-opprøret i 2000, den andre intifadaen. Skuffelse over manglende fremgang og virkelig frihet til tross for Osloavtalen gav seg utslag i opprør, både innad i de palestinske områdene og aksjoner mot Israel.
Israel svarte med isolasjonstiltak, som blant annet gjorde det nesten umulig for palestinerne å komme seg ut og inn av Vestbredden og Gazastripen, selv for å arbeide.
Arbeidsledigheten steg fra 10 til over 50 prosent, og høyest var den i Gaza-området. Antall ledige der er nå over 40 prosent, ungdomsledigheten er steget til over 50 prosent, ifølge tilgjengelig statistikk. Men ingen vet om tallene stemmer.
Rivalene Hamas og Fatah
En stadig mer intens rivalisering mellom det palestinske førende partiet Fatha og islamistorganisasjonen Hamas har heller ikke vært heldig for Gazastripen.
Den nasjonalistiske sekulære bevegelsen Fatah har ført frihetskamp for det palestinske folk siden den ble dannet på 1950-tallet, som en av mange grupper som vokste frem med befrielsen av Palestina som mål.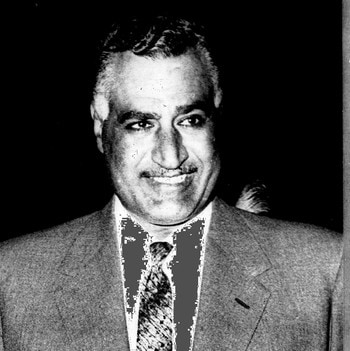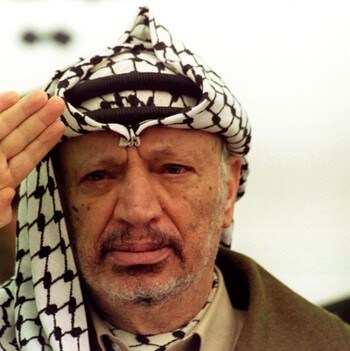 Det fantes etter 1948-krigen ikke noe samlet palestinsk lederskap med autoritet, og i 1964 tok den egyptiske presidenten Gamal Abdel Nasser initiativet til å danne PLO (Palestine Liberation Organization).
PLO skulle samle alle palestinere og alle grupperinger i væpnet kamp mot Israel og for frigjøring av Palestina.
I 1969 – etter den fatale 1967-krigen – ble Fatah-lederen Yasir Arafat leder og frontfigur for PLO. Fatah-medlemmer overtok makten i PLOs to maktorganer, nasjonalrådet og sentralkomiteen, og la en ny strategi for motstandskampen.
Etter to svært blodige og konfronterende tiår, blant annet med flykapringer og terroraksjoner for å skape oppmerksomhet rundt palestinernes sak og balansegang i forhold til de arabiske støttespillerne med ulike interesser, kom et vendepunkt i 1988.
Da tok Arafat avstand fra bruk av terror i kampen for en selvstendig stat.
Det var Arafat på vegne av PLO som underskrev Osloavtalen sammen med representanter for Israel.
Her het det at en selvstendig palestinsk stat skulle opprettes i løpet av mai 1999.
Men forhandlingene om fortsatt uløste spørsmål fikk en brå slutt da den israelske statsministeren Yitzhak Rabin ble myrdet av en jødisk ekstremist i 1995.
Etterfølgeren, dagens statsminister Benjamin Netanyahu, var langt mindre kompromissvillig.
Lite kompromissvillig var også Hamas, som begynte å gjøre seg gjeldende på den palestinske siden.
Den islamistiske organisasjonen som formelt ble dannet i 1987, har sitt utspring fra Det muslimske brorskapet i Egypt.
Hamas holder på at hele Palestina, inkludert Israel, er hellig muslimsk land som verken kan deles eller forhandles bort. Hele Palestina skal frigjøres og jødene skal bort.
Hamas valgte i likhet med andre islamske grupper å stå utenfor PLO, og forsøkte å torpedere fredsprosessen som var på gang. Sammen med Islamsk jihad stod Hamas bak en rekke selvmordsangrep mot sivile israelere.
Dette stanset imidlertid ikke prosessen i å munne ut i avtalen om palestinsk selvstyre på Gazastripen og Vestbredden – områdene i det nye Palestina.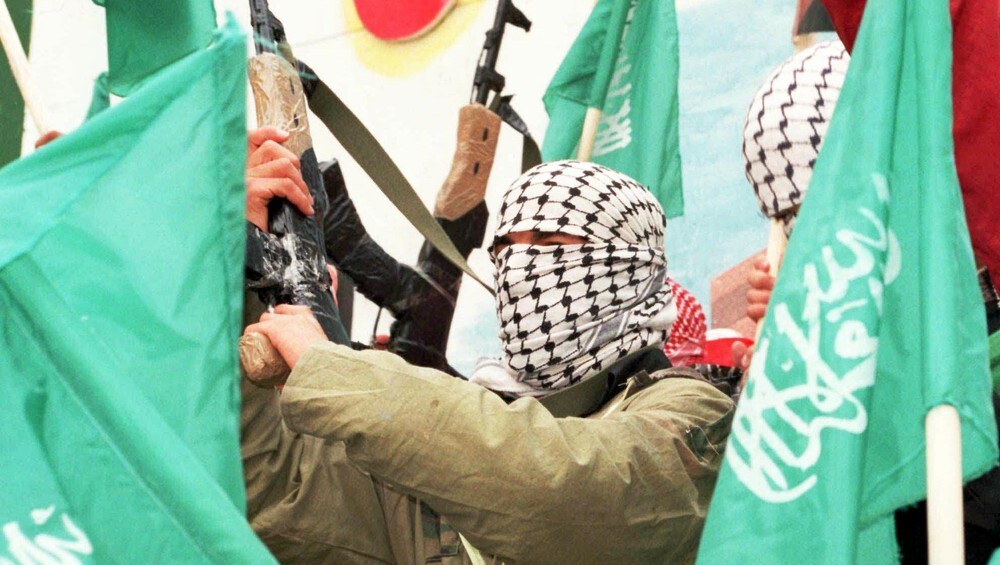 Vanstyre og misnøye
Hamas boikottet det første valget til den palestinske selvstyreforsamlingen i 1994, hvor Fatah ble største parti og fikk regjeringsmakten. Men det viste seg nok en gang i verdenshistorien; en ting er å være en motstandsorganisasjon, en annen en ansvarlig styresmakt.
Med manglende fremgang, utbredt korrupsjon og vanstyre på slutten av Yasir Arafats tid, vokste misnøyen med Fatah.
Det hersket lovløshet og anarki samtidig som israelske styrker jevnlig fortsatte sine raid inn i de palestinske selvstyreområdene.
På Gazastripen ble utenlandske hjelpearbeidere kidnappet og rasende palestinere brøt sperringene ved den egyptiske grensen og skjøt i hjel to egyptiske grensevakter i starten av 2006, like før det andre palestinske valget skulle avholdes.
Hamas har alltid – på grunn av nærheten til Egypt – hatt sterkere feste på Gazastripen enn på Vestbredden, og hadde bygget opp en sosial virksomhet som kom innbyggerne til gode. I tillegg erklærte de kamp mot den omfattende korrupsjonen som preget det palestinske samfunnet.
Dette økte oppslutningen om Hamas, ikke bare blant Gazastripens innbyggere men også hos mange på Vestbredden som så Hamas som et alternativ til det korrupte Fatah-regimet.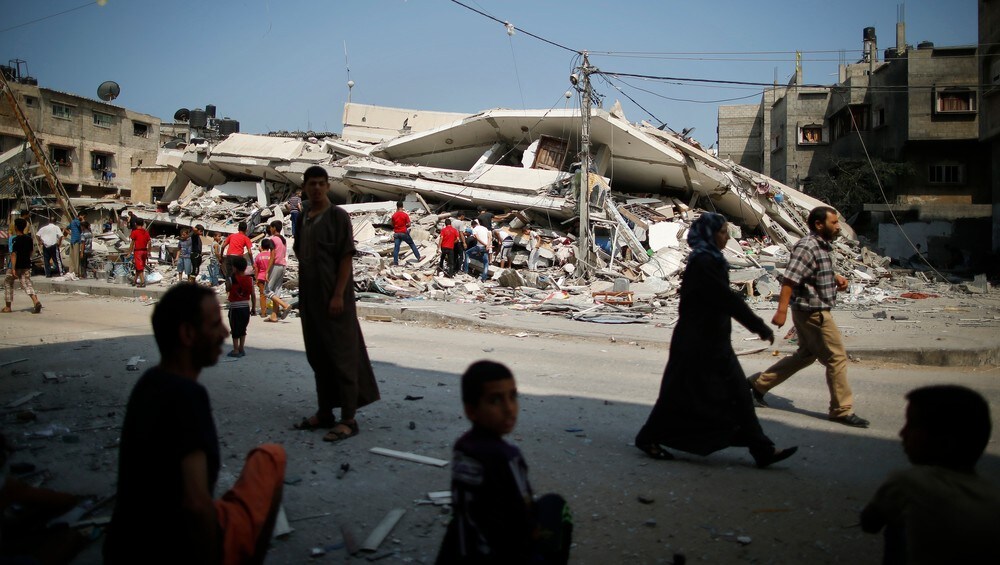 Valgsjokket som rystet verden
Foran det andre palestinske valget ønsket Hamas å delta. Det ønsket delte verken Israel eller president Mahmoud Abbas, som hadde blitt valgt til president etter Yasir Arafat i 2005 og som hadde vært sjefarkitekten bak fredsprosessen på palestinsk side og den første statsministeren under selvstyretiden.
Israel henviste til Osloavtalen hvor det står at partier eller individer som oppmuntrer til rasisme eller som forsøker å nå sine mål med ulovlige eller udemokratiske midler, er diskvalifisert til å delta i valg.
Men USA og daværende president George W. Bush insisterte på at Hamas sin deltakelse måtte tillates, i lys av hans plan for demokratispredning i Midtøsten.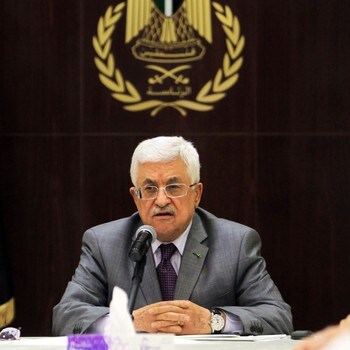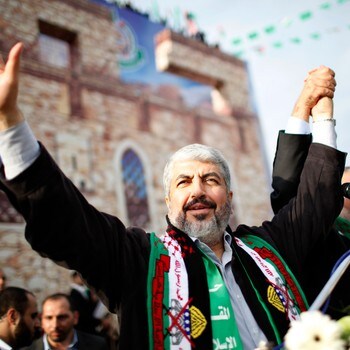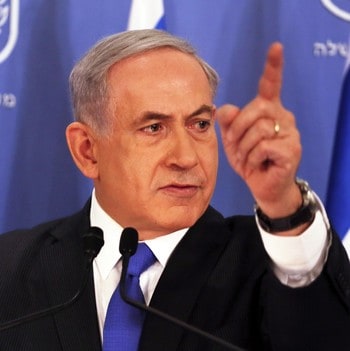 Sjokket var likevel stort for både Bush og andre da Hamas vant klart, og fikk 74 av de 132 plassene i den palestinske selvstyreforsamlingen mot Fatahs 45. Resten av plassene ble fordelt på mindre partier.
Hamas – under ledelse av den moderate statsministerkandidaten Ismail Haniyeh – ønsket å danne en koalisjonsregjering sammen med Fatah og andre småpartier. Da taperne nølte, dannet Hamas regjering på egen hånd.
Den nye regjeringen avviste kravet om at Hamas måtte anerkjenne PLO som representant for det palestinske folket, at inngåtte avtaler mellom PLO og Israel måtte overholdes og at Hamas måtte anerkjenne Israel som stat i tråd med disse.
I tillegg kom kravet om at Hamas måtte, i likhet med hva PLO gjorde i 1988, ta avstand fra vold og terrorbruk.
Dette nektet Hamas, og den internasjonale bistanden til det palestinske selvstyreområdet ble stoppet. Hamas stod fra før av på terrorlistene både hos EU og USA, og Haniyeh-regjeringen ble en ikke-regjering internasjonalt sett.
Fatah-lederne på sin side fisket i rørt vann, for å beholde makten.
Maktkampen ble starten på en voldsspiral mellom Hamas og Fatah, spesielt på Gazastripen.
En forsoningsprosess, på initiativ fra palestinske politikere utenfor de to grupperingene, ble avvist av Hamas sin eksilledelse i Damaskus i Syria. Det samme ble flere egyptiske fredsforslag.
I det partene var på glid sommeren og høsten 2006 – noe som innebar en viss anerkjennelse av Israel fra Hamas» side – ble den israelske soldaten Gilad Shalit kidnappet under et palestinsk angrep på en grensepost på Gazastripen.
Resultatet ble at israelske styrker gikk inn i Gaza, forsøkene på en samlingsregjering brøt sammen, og den interne palestinske konflikten eksploderte i vold.
Det hadde lenge vært maktkamp om hvem som skulle kontrollere den nyopprettede palestinske sikkerhetstjenesten og sørge for ro og orden i selvstyreområdene.
Da president Mahmoud Abbas nektet å gi fra seg kontrollen, trosset Hamas presidenten og innførte like godt sin egen sikkerhetsstyrke på Gazastripen.
Saudi-Arabia fikk midt i voldsinfernoet som pågikk, meklet frem en samarbeidsregjering. Regjeringen, som skulle ledes av Hamas-statsminister Ismail Haniyeh, ble utnevnt. Også en våpenhvile fikk saudierne til, men den skulle bli like kortvarig som de foregående forsøkene.
De internasjonale kravene om at Hamas måtte anerkjenne Israel stod fortsatt fast hvis den internasjonale boikotten skulle oppheves. Norge var ett av få vestlige land som valgte å ikke følge den internasjonale boikottlinjen og hadde kontakt.
Etter at en enda våpenhvile, denne gangen meklet frem av Egypt, brøt sammen, trakk Fatah seg fra regjeringssamarbeidet i juni 2007.
Få dager etter stormet Hamas sin sikkerhetsstyrke hovedkvarteret til den offisielle palestinske sikkerhetstjenesten på Gazastripen. President Mahmoud Abbas kunngjorde unntakstilstand, avskjediget statsminister Ismail Haniyeh og utnevnte en ny regjering.
Haniyeh og Hamas kvitterte med å erklære kontroll over Gazastripen – og slik har stillingskrigen vært de sju siste årene.
Presidentvalget, som opprinnelig skulle blitt holdt i 2008, er blitt utsatt gang på gang og Abbas regjerer det sjette året på overtid. På Vestbredden har regjeringer kommet og gått, på Gazastripen har Hamas styrt hele veien.
Da lokalvalg skulle gjennomføres i 2012, ble det kun avholdt valg på Vestbredden, Hamas tillot ingen valg på Gazastripen.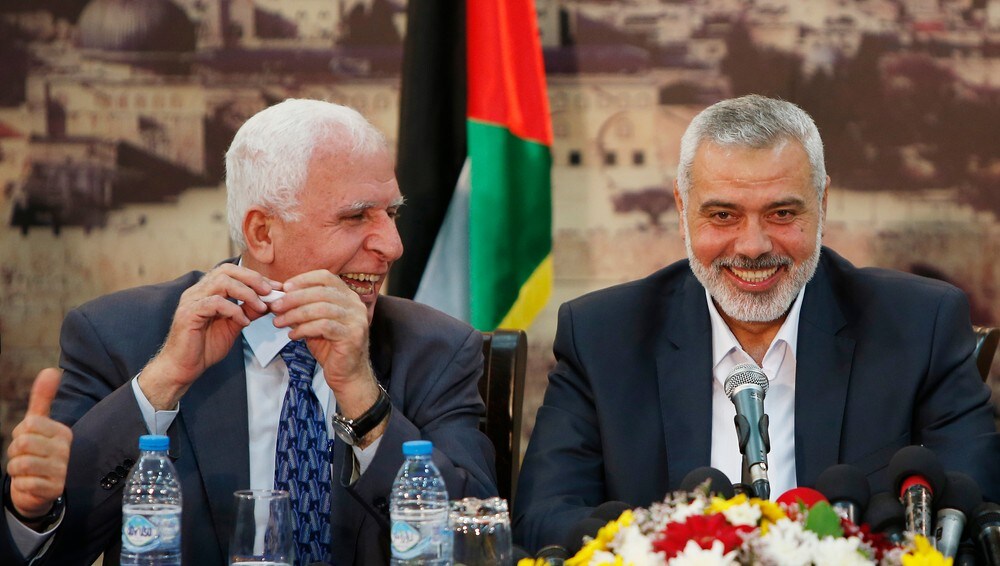 Samlet for første gang på sju år
I vår klarte riktignok Hamas og Fatah å bli enige om ny samlingsregjering som skal styre både Gazastripen og Vestbredden, bestående av upolitiske regjeringsmedlemmer, og regjeringen ble tatt i ed 2. juni i år.
Til forskjell fra forrige gang har denne regjeringen blitt anerkjent av store deler av det internasjonale samfunnet, inkludert Israels nærmeste støttespiller USA.
Samlingen innebar blant annet at den gamle Hamas-administrasjonen på Gazastripen, ledet av eksstatsminister Ismail Haniyeh, ble oppløst.
I forsøket på å sikre oppslutning om den nye regjeringen og unngå sosial uro, har Qatar tilbudt å bidra med 370 millioner kroner i lønnskompensasjon til dem som mistet jobbene sine som følge av regjeringssamlingen.
Men å få pengene inn på Gazastripen har vist seg å ikke være enkelt på grunn av Israels blokade.
For i tillegg til å krige mot hverandre, fører både Hamas og Fatah en stadig kamp mot Israel – om enn på ulikt vis – og Israel mot dem.
Da nyheten om den nye palestinske samlingsregjeringen kom, brøt Israel de USA-ledede fredsforhandlingene med president Mahmoud Abbas.
Israels statsminister Benjamin Netanyahu mener fortsatt Hamas har som mål å ødelegge Israel, og hevder Abbas må velge mellom fred med Israel eller fred med Hamas.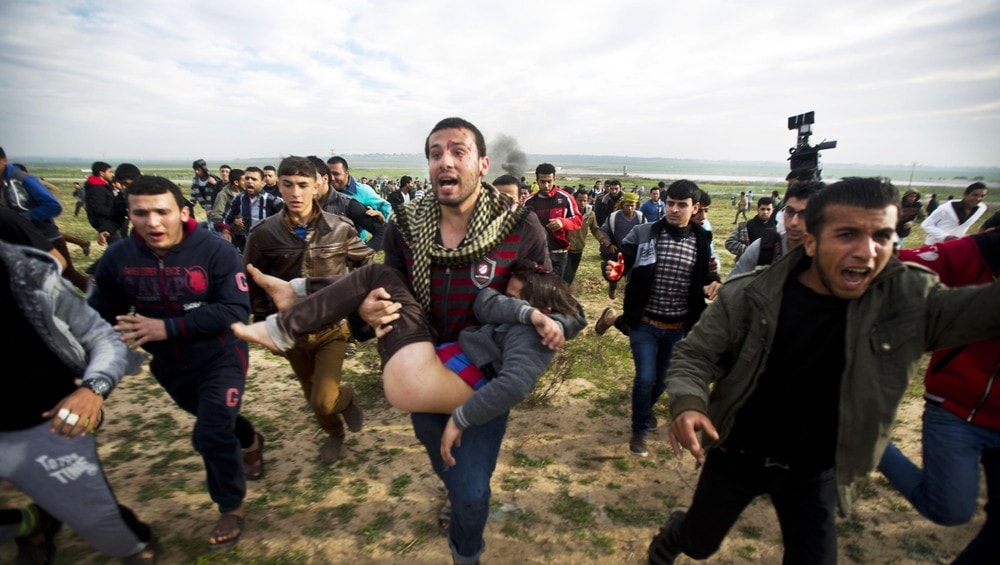 Isolert fra omverdenen
Etter at Hamas vant det andre palestinske valget, fikk Gazastripen statusen som fiendtlig område av Israel, blant annet for å kunne begrunne innføring av ulike sanksjoner, blant annet permanent stengning av grensene mellom Israel og Gazastripen.
Det ble innført vare- og grensekontroll, og det er israelske grensevakter som siden 2006 har avgjort hva som kommer over grensen til Gazastripen. I perioder har det vært svært lite, ifølge internasjonale representanter.
Dette har ført til svært vanskelige forhold for sivilbefolkningen, både FN og internasjonale organisasjoner har karakterisert forholdene nær en humanitær katastrofe. Enda verre har det blitt i de periodene også Egypt har stengt sin grenseovergang.
Amnesty International hevder blokaden er ulovlig, gitt at den er en kollektiv avstraffelse av et helt folk, noe som er forbudt etter internasjonal folkerett. Mens FN har karakterisert blokaden som uholdbar og en middelaldersk straffemåte.
60 prosent av befolkningen på Gazastripen var i 2006, etter de to første intifadaene, avhengig av hjelp for å overleve. I 2008 var tallet økt til 80 prosent.
Ifølge UNWRA, FN-organisasjonen som har ansvar for de palestinske flyktningene, har antallet som ikke har råd til å kjøpe basisvarer som såpe, toalettartikler og rent drikkevann, tredoblet seg siden 2007.
21 prosent av befolkningen lever i det som kalles «dyp fattigdom», det tilsvarende tallet for Vestbredden er 7,8 prosent.
Vann- og kloakksystemet har lidd kraftig under manglende vedlikehold og årevis med israelske angrep. En del av husene i flyktningleirene på Gaza-stripen har verken vann eller strøm, og det er et skrikende behov for ordinære samfunnstjenester. Sykehusene mangler utstyr og medisiner og barn vokser opp i svært kummerlige forhold.
Internasjonal bistand, direkte bevilgninger fra andre land og pengestøtte fra utflyttede palestinere holder Gazastripen flytende, i tillegg til den omfattende smuglerøkonomien som har tvunget seg frem.
Israels hevder målet med blokaden er å isolere Hamas, som i sitt charter fortsatt har utslettelse av Israel som mål, og viser til de stadige rakettangrepene mot israelske mål som utføres fra Gazastripen.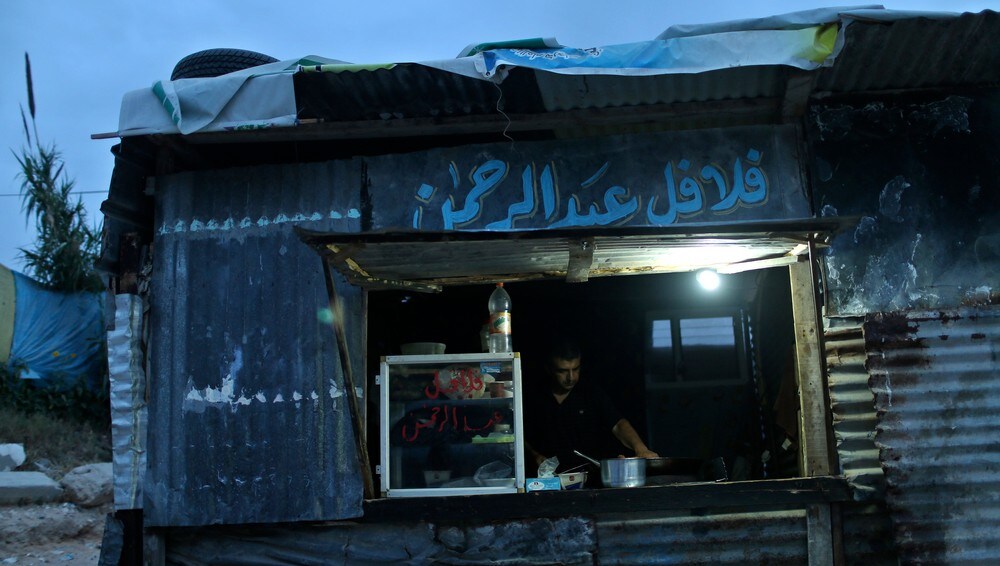 Gazakrigene
I desember 2008 løp en skjør men historisk våpenhvile mellom Hamas og Israel ut. Begge skyldte på hverandre for gjensidige brudd og manglende vilje for at den ikke ble fornyet.
Israel hevdet at fra tidspunktet Hamas overtok kontrollen på Gazastripen, ble det på ett år skutt mer enn 1000 raketter inn i Israel, raketter som Israel hevnet med beskytning, bombing og bakkeangrep.
27. desember 2008 startet operasjonen «Cast Lead» som ble til den 25 dagers lange Gazakrigen. Den etterlot 1400 døde palestinere, 13 døde israelske soldater og en Gazastripen i ruiner.
Dette gjorde tilværelsen i det som kalles verdens største utendørs fengsel enda mer mistrøstig. Den sterke internasjonale kritikken mot Israel for brutal krigføring, hjalp ikke stort.
Nå er altså Hamas og Israel på nytt i krig, denne gangen uløst av bortføringen av og drapene på tre jødiske tenåringer fra jødiske bosettinger på Vestbredden og et tilsvarende drap på en ung palestiner, drept av israelsk bosetterungdom.
8. juli startet Israel luftangrepet «Operation Protective Edge» som svar på raketter fyrt av fra Gazastripen. Luftoperasjonen er fulgt opp med bakkeoffensiv.
Et forslag om våpenhvile – nok en gang utformet av Egypt – ble avslått av Hamas i midten av juli. Sentralt i avslaget står blokaden, som Hamas krever opphevet.
Ifølge den israelske storavisen Jerusalem Post kan Hamas gå med på en tiårig våpenhvile hvis Israel åpner grensepostene og at det blir en internasjonal kontroll over havneområdet i Gaza by, slik at samfunnet på Gazastripen kan komme i gang igjen.
Fakta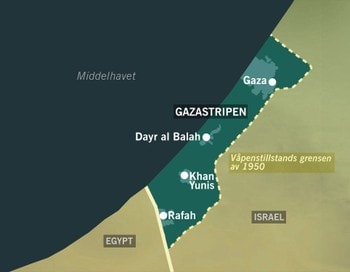 Gazastripen
Gazastripen er 365 kvadratkilometer. Vestbredden er langt større med sine 5800 kvadratkilometer.
De største byene er Gaza by og Khan Younis.
Stripen har en 12 kilometers lang grensen mot Egypt. Resten av kyststripen grenser mot Israel.
Palestina
Etter at det ottomanske rikets fall etter 1. verdenskrig, ble Gazastripen og Vestbredden en del av det britiskstyrte manadatområdet Palestina. Dette kom til å bestemme fremtiden for palestinerne.
Etter 2. verdenskrig var Gazastripen og Vestbredden ment å tilhøre en ny arabisk stat nedfelt i FNs delingsplan for området fra 1947. Planen la opp til en en arabisk og en jødisk stat.
Den arabiske befolkningen, som utgjorde 70 prosent av befolkningen i området, protesterte mot at den jødisk staten skulle etableres på det de mente var sin jord.
Samme dag som den britiske tilbaktrekningsdatoen, gikk hærstyrker fra Egypt, Irak, Jordan og Libanon inn i Palestina – slik de hadde truet med hvis erklæringen om en jødisk statsopprettelse kom. Jødiske soldater svarte med kamp, og i august var hele Palestina utenom Gaza og Vestbredden under israelsk kontroll.
Den jødiske nye staten endte opp med 77 prosent av landarealet i det påtenkte Palestina. I FNs delingsplan var tallet satt til 57 prosent.
Gazastripen endte med å bli underlagt Egypt. Vestbredden, inkludert Øst-Jerusalem, kom under Jordan.
Grensene mot Israel ble fastlagt i en våpenstillstandsavtale i 1949. Palestina opphørte å eksistere som geografisk enhet.
I 1956 i forbindelse med Suez-krisen og det israelsk angrepet på Egypt, ble Gazastripen og størstedelen av Sinai ble erobret av Israel, men ble tilbakeført til Egypt, etter inngripen fra FN.
Under Seksdagerskrigen i juni 1967, 11 år senere, erobret Israel på nytt deler Gazastripen fra Egypt og deler av Sinai. I tillegg tok landet Vestbredden med Øst-Jerusalem fra Jordan og Golan-høydene fra Syria.
Sinai ble gitt tilbake til Egypt i 1982, i forbindelse med fredsavtalen fra 1979. Gazastripen forble under israelsk styre helt frem til selvstyreavtalen av 1993.
Væpnede grupper på Gazastripen
Hamas sin væpnede fløy, Ezzedine al-Qassam-brigadene, består av rundt 10.000 menn.
Islamsk jihad er nest største gruppering og rivaliserer med Hamas. Rundt 8000 menn tilhører den væpnede fløyen Al Quds-brigadene.
Al-Nasser-Saladin-brigadene står under kontroll av Folkets motstandskomiteer, en gruppe som ble dannet i år 2000.
Det finnes også flere grupper av salafistiske jihadister, radikale tilhengere av islam og hellig krig, som mener Hamas opptrer for svakt overfor Israel. Den mest kjente er Islams hær.
I tillegg finnes det væpnede grupper som før var tilknyttet PLO. Men de har vært mindre synlige siden Hamas overtok makten på Gazastripen.
————————————————————————————-
Yvonne Ridley
Thursday, 03 July 2014
How can a man bearing the title «Middle East Peace Envoy» agree to advise the blood-drenched Egyptian president, Abdel Fatah Al-Sisi, who seized power in a military coup last year after presiding over the slaughter of 2,500 protesters and the incarceration of more than 20,000 others?The shocking announcement comes only days after Tony Blair attempted in vain to promote the idea of yet another war in the chaos of Iraq, to an incredulous world.
Blair has been a flop in terms of promoting peace in the Middle East … the region has never been as volatile as it is now – and to add insult to injury, it appears he is now cashing in on his position as the envoy of the Quartet – the UN, US, Russia and EU.
The former British Prime Minister might be a spectacular failure at making peace but when it comes to making the filthy lucre his success knows no limits as his private business interests in the ever-volatile region merge in to his role with the Quartet. No other senior executive would be allowed to operate like this; he would be sacked but Blair continues to make money amid the misery and chaos in the Middle East – some of it a legacy from his days as British PM.
This latest deal as an adviser to Al-Sisi has been packaged together in a project funded by the United Arab Emirates. The programme is being supervised by the management consultancy Strategy& which is part of PricewaterhouseCoopers. Their aim is to attract investment into Egypt's failing economy and a donors» conference sponsored by oil-rich UAE, Kuwait and Saudi Arabia will follow in which Blair will be a keynote speaker.
Of course, we are told by Blair's people that his decision to embark on this latest scheme was not being done «for any personal gain whatsoever». During an interview with The Guardian newspaper his spokesperson insisted he would make no money out of Egypt and neither would any of his organisations. «He is giving advice, he will have meetings, that's all,» she said adding that he «is not a formal adviser».
Perhaps the question to ask would be how much is he being paid by the Gulf States promoting this scheme to give Al-Sisi some credibility … The former army chief single-handedly did more to damage Egypt's economy when he got rid of the democratically elected Muhammad Morsi; it was a decision which destroyed the country's tourism and economy; sparked mass demonstrations and riots; and caused the deaths of hundreds.
It is not inconceivable that Blair will profit from the so-called lucrative business opportunities which could arise from the donor conference in Cairo.
Without a thought for the thousands being held in prisons throughout Egypt, including journalists, academics and supporters of the Muslim Brotherhood, Blair is nothing more than Al-Sisi's executive pimp. It's a role in which he excels for since being shoe-horned out of Downing Street in 2007, Blair and his companies have amassed a string of multimillion pound consultancy contracts with private corporations, dictatorships and repressive regimes around the world.
His business dealings and consultancies are buried in a labyrinth of companies and partnerships which enable him to avoid publishing the full accounts and details of his activities although his earnings are thought to exceed £20 million a year.
Anyone can see there is a conflict of interest and Blair should be removed as Middle East Peace Envoy immediately, not least of all because his performance has been appalling.
If he is removed, it might just spur Labour leader Ed Miliband to review Blair's party membership – his obscene wealth and ability to do business with some of the world's worst human rights abusers and continued war-mongering must make him a prime candidate for expulsion from a party founded on socialist principles and ethics.
———————————————————————————————-
Holder vannet som et gissel
– I den okkuperte Jordandalen har Israel låst inn vannkraner, til fortvilelse blant palestinerne:
TØRKER UT: Tar du vannet fra folk, tar du livsgrunnlaget fra dem. Palestinerne i Jordandalen høster sine tørre erfaringer.
Pumpa stamper i bakken. Fuktig betongfarget leirslim velter ut av hullet og glir som en bekk i retning av Jordanelva. Den ligger vel fem kilometer unna, en tynn stripe som blir magrere for hver kilometer ut på veien mot Dødehavet.
Her i Fasayil er det allerede tørt. Det fins knapt trær i den lille palestinske landsbyen på vestbredden av hovedveien nordover fra Jeriko til Tubas eller opp det steile henget til den sentrale Vestbredden.
Derfor er de frodige lundene på begge sider av Fasayil påfallende. De står ut i terrenget, og mellom det grønne skimter en lyse bygninger som skiller seg markant ut fra tradisjonelle palestinske landsbyer i den vibrerende Jordandalen, over to hundre meter under havflaten.
Partert landstykke
Det er ikke mer enn 70 kilometer i luftlinje til stranda i Tel Aviv. En slutter aldri å la seg forundre over de korte avstandene i regionen, i utstrekning og historisk, forankret i religion.
Husene tilhører de israelske bosettingene Petzael og Tomer, med industrikolonien Ma'ale Efrayim lenger nord og Yitav, bygd på den palestinske landsbyen al-Anja, i sør. De har hånd om vannet på denne siden av veien.
På den andre ligger den lange rekken av daddelplantasjer som strekker seg helt ned til Jeriko og forbi. Betongmuren som snirkler seg mellom palestinske landsbyer og bydeler i Øst-Jerusalem på og innenfor Den grønne linja gir et monumentalt inntrykk av parteringen av Vestbredden.
Plantasjene viser hvor dypt plantet Israels kolonisering av Jordandalen, kornkammeret i en tenkt palestinsk stat, i virkeligheten stikker. Koloniseringen dekker også over Israels krav på «sikkerhet», som er Vestens kronargument for å støtte Israels ekspansjon.
Under Israels kontroll
Pumpa som går i Fasayil, er unntaket. Konsesjonen for brønnen daterer seg til før Seksdagerskrigen i juni 1967, fra jordanske myndigheter. I dag er det Israel som kontrollerer alle vannkraner. Bokstavelig talt. Alle er buret inn, med solid hengelås. «The jailed wells», som Jamal Juma, leder for Stop the Wall, kaller dem. De vel 6500 bosetterne rundt har 98 prosent av vannet.
Det er noen dager etter den palestinske landdagen, yawm al-ard, den årlige markeringen av generalstreiken til den nasjonale komiteen for forsvar av arabisk land 30. mars 1976 i protest mot Israels planer om å konfiskere palestinsk land i Israel, i Galilea, som del av den offisielle planen «Judaisering av Galilea».
Den utløste masseprotester fra de palestinske små landsbyene nord for Vestbredden til langt ut i Negevørkenen i sør – og førte til at seks palestinske israelere ble drept og 96 såret og skadd.
Et symbol for palestinerne
Landdagen symboliserer i dag palestinernes røtter til sitt land og sine vannressurser og protester mot den stadige konfiskeringen, uttørringen og opprykning fra jorda.
Jordan Valley Solidarity (JVS) har slått seg ned i huset ved siden av der pumpa går. Stempellyden har aldri blitt oppfattet som støy. Forstørrede bilder på plastduk viser virksomheten, hvorfor JVS er i Fasayil som observatører på skift, om lag tretti palestinere og utenlandske solidaritetsaktivister på skift. Bilder av israelske soldater som konfiskerer den gule vanntanken som eselet har trukket på kjerre til landsbyen. Soldater som står på vanntanken, soldater som holder gamle kvinner med bøtter og spann på avstand med utstrakte geværer. Bildet av tanken som blir kjørt vekk på militærets lastebil.
Pumpa nærmer seg to hundre meter. «To exist is to resist», å eksistere er å yte motstand, står det skrevet. Det er mottoet til JVS, Stop the Wall og Popular Resistance, den nye folkelige motstanden som vokser fram på flere områder, i flere sektorer, og som JVS er del av. De registrerer overgrepene.
– Palestinerne her i Fasayil får ikke lov til å bygge hus eller frakte vann til landsbygda. Husene blir ødelagt, revet. Vi bygde ny skole i 2007. Den ble revet fordi dette er israelskkontrollert C-område, forteller den palestinske JVS-aktivisten Sireen Ishderi, ved inngangen til den nye skolen som er reist på ukuelig trass.
Armeringsjernene som stikker opp av huset ved siden av, har et tynt rustlag. Ordren er gitt, det skal rives, forteller Ishderi.
– De river, vi bygger opp … igjen.
JVS lager murstein av leire og strå. Det er brukt til å reise 120 hus, helsesenter, skolen. JVS er eneste organisasjon. De alene kan ikke hindre at hele landsbyer er blitt utslettet. Bare under forhandlingene fra juli i fjor, ble fire lokalsamfunn tømte, beduinerløene revet ned og brent, lokalsamfunn i den nordre delen av Jordandalen stengt av fra to om ettermiddagen til klokka sju neste morgen.
Flytter fra dalen
Men mange har dratt, til andre steder på Vestbredden eller krysset elva til Jordan, ut av C-områdene. Før erobringen under Seksdagerskrigen levde vel 300.000 palestinere i Jordandalen. I dag er det 55.000 tilbake, og stadig flere beduinene presses opp i høyden på Vestbredden for å tvinges til permanent bosetting fordi de gamle traktene deres nede i Jordandalen blir erklært militært område.
Jordanelva blir tappet. Dødehavet er i ferd med å dele seg. Det trekker seg tilbake og fordunster, som Aralsjøen mellom Kasakhstan og Usbekistan. Israel, Jordan og de palestinske selvstyremyndighetene har skrevet avtale om prosjektet som skal lede vann fra Rødehavet ned i Dødehavet, med tung finansiell støtte fra Verdensbanken. Mange frykter for de miljømessige konsekvensene – og ytterligere kolonisering, hvor palestinerne blir nødt til å betale dyrt, riktig dyrt, for desalinert vann.
– Vi blir frastjålet vannet, konstaterer Wael Natheef, sekretær for Jeriko-avdelingen av Palestine General Federation of Trade Unions (PGFTU). Israel har opprettet 23 landbruks- og tre industrisoner på en strekning på vel hundre kilometer fra Dødehavet til Bisan. 70 prosent er C-områder; Israel tar 80 prosent av vannet, inkludert fem kunstige innsjøer for krokodiller til skinnproduksjon.
– Palestinske myndigheter og privat sektor forsøker å lage prosjekter, men alt er under israelsk kontroll, og arbeidsforholdene er svært vanskelige. 4000 palestinere jobber i de israelske sonene. 40 prosent kvinner, 15 prosent barn, opplyser Natheef.
Israels sikkerhet
De jobber under ulike vilkår, som arbeidere i industrikolonier som Mishor Adumim hvor det fins 155 israelske fabrikker innen tekstil, matvarer og annet som SodaStream. Her jobber vel 700 palestinere fra Jeriko. I Ma'ale Adumim, kalt «Blekksrutkolonien» fordi den vokser utover alle høydedragene, jobber vel 150 palestinske kvinner uten tillatelse som hushjelper, uten rettigheter. De er svært utsatt. Dessuten fins det palestinske ansatte på ferieresortene langs Dødehavet og landarbeidere på plantasjene, ofte sesongarbeidere i daddel- og druesesongen, eksportert som «Made in Israel» eller under merker som «Al-Aqsa»-dadler.
– Her er arbeidsforholdene forferdelige, forteller Natheef, slik Klassekampen beskrev dem i november. Israel har brukt forhandlingene til å rive til seg og plante flere realiteter på bakken, i Øst-Jerusalem og Vestbredden. I Jordandalen blir det gjort under militært dekke som flagges på den internasjonale arenaen som «sikkerhetsforskrifter» for Israel, noe som gjentas av norske regjeringer.
Slik lyder det fra statsminister Benjamin Netanyahu: «Israel er oppsatt på å komme fram til en avtale med palestinerne som først og fremst bygger på garantier for sikkerhet, behovet for å beskytte den østre grensa og Israels vitale interesser.»
– Hæren må bli
Israel krever militært nærvær i Aghwar-regionen av Jordandalen. President Mahmoud Abbas har tilbudt Nato-nærvær i fem år under israelsk tilbaketrekking. Avslått. Ifølge den hebraiske avisa Ma'ariv har Netanyahu hele tida vært opptatt av militært nærvær i Aghwar.
Aghwar er østre grenseområde for den palestinske staten som ikke lenger eksisterer på tegnebrettet. Den utgjør vel 28 prosent av Vestbredden og er den beste tomta for framtidige palestinske byer på grunn av den lille befolkningen. Aghwar produserer 60 prosent av Palestinas grønnsaker, 40 prosent av sitrusfrukter og 100 prosent av bananer. Historiske og religiøse plasser er magneter for turister.
– Hæren må bli her i enhver framtidig avtale med palestinerne, sa Netanyahu under sitt besøk i regionen for to go et halvt år siden, ifølge statsministeren for å hindre raketter fra å regne ned over Tel Aviv og Haifa. Fra hvilket sted på Vestbredden vil det ikke kunne skje?
«Strategisk dybde»
Israel krever sikkerhet og rykker inn på Vestbredden med hundretusener av bosettere. Nå bygger Israel «sikkerhetsmuren» for å hindre tusenvis av palestinske flyktninger fra Syria og Jordan å ta seg til Vestbredden, ifølge israelsk presse. Eller for å styrke Israels nærvær i Aghwar, ifølge Netanyahu.
– Det er viktig å hindre smugling av våpen og sabotører over den østre grensa. Men det er intensivt jordansk nærvær på den andre siden av Jordanelva for å sikre at det ikke skjer, påpeker Danny Yatom, tidligere Mossad-sjef.
Tidligere sjef for den israelske sørkommandoen, general Amram Mitzna, understreker viktigheten av «strategisk dybde»:
– Hva godt vil noen hunder meter med sikkerhetsstripe bringe oss?
– Dette dreier seg om økonomi, ikke sikkerhet, mener Natheef.
Det dreier seg om kolonisering.
peter.m.johansen@klassekampen.no
Artikkelserien er basert på en reise i regi av Palestinakomiteen.
© Klassekampen
———————————————————————
Femåring arrestert av israelske soldater – Grunn: han skal ha kasta stein på et militært kjøretøy.

Foto: B'Teselem
(Dagbladet, 12. juli 2013): Blant tungt bevæpnede israelske soldater står en femåring og gråter.
Han har akkurat blitt arrestert for å kaste stein på et militært kjøretøy, og pappa er ikke hjemme.
Videoen over viser hvordan israelske soldater i byen Hebron angivelig arresterer en fem år gammel gråtende gutt for å kaste stein på et militært kjøretøy.
Senere la de faren hans i jern, og bandt ham for øynene.
Den ikke-statlige organisasjonen B'Tselem har klaget hendelsen til departementet for lov og rett i Judea og Samaria, skriver Jerusalem Post.
B'Tselem skriver i en pressemelding at hendelsen er svært grov, og et brudd på israelsk og internasjonal lov. Videre skriver B'Teselem at det ikke finnes juridisk begrunnelse for å anholde et barn under kriminell lavalder.
Anklager B'Teselem for partisk redigering
En talsmann for IDF, Israels forsvar, forteller til The Times of Isreal at barnet ikke ble arrestert, og anklager B'Teselem for partisk redigering av video-opptakene.
Den samme talsmannen legger imidlertid til at de skal granske episoden.

Foto: B'Teselem
Videoen, skutt av palestinske Manal el Ja'bari, viser kjølevannet av det påståtte steinkastet, med soldater og grensepoliti samlet nær en gruppe palestinere.
Barnet står også der, og soldatene prøver å finne ut hvem faren er.
Soldatene spurte en av de palestinske mennene om hvor faren til femåringen bodde.
Ifølge B'Teselem var ikke faren til femåringen hjemme.
Soldatene fortalte guttens mor at de aktet å arrestere den lille gutten.
En halvtime senere kom faren hjem.
B'Teselem siterer han på følgende: – Da jeg kom hjem, oppdaget jeg at flere soldater sto utenfor ingangen til hjemstedet mitt. En offiser beordret meg til å hente sønnen min. Han skulle arresteres. Hvorfor en femåring? spurte jeg ham.
En soldat ved siden av viste meg en stein og påsto at sønnen min hadde kastet den.
B'Tselem skriver at gutten ble avhørt av det palestinske politiet og deretter løslatt.
——————————————————-
Palestinian plight hits UEFA spotlight
Decision to host high-profile event in Israel has fuelled criticism of European football's governing body.
Jonathan Cook – Al Jazeera, 04 Jun 2013
Tel Aviv, Israel – With Europe's most talented young footballers preparing for the kick-off of the under-21 championships on Wednesday, Israelis are celebrating the biggest footballing coup in their history.
The tournament, which opens with a match between Israel and Norway, will be broadcast to 140 countries. Some 170,000 tickets have been sold for the 15 matches, with thousands of fans arriving from England, Germany, the Netherlands and Italy, as well as European politicians and more than 100 scouts from the world's top clubs.
But the decision to host the high-profile event in Israel has fuelled criticism of European football's governing body, UEFA, from a coalition of global statesmen, Palestinian leaders, international footballers and human rights activists.
They have spent months pressuring UEFA officials to switch the tournament to another country, arguing that Israel's occupation of Palestinian lands, and its record of undermining Palestinian sports, make it an unworthy venue for the championship.
Last week Desmond Tutu, the leading South African anti-apartheid campaigner and Nobel peace laureate, threw his weight behind the campaign. In a letter published by Britain's Guardiannewspaper, Tutu and other prominent human rights activists argued that UEFA was acting to «whitewash» Israeli racism.
«We find it shocking that [UEFA] shows total insensitivity to the blatant and entrenched discrimination inflicted on Palestinian sportsmen and women by Israel,» they wrote.
Israeli response
Avi Luzon, the head of the Israeli Football Association (IFA), appeared unfazed. He said this week that the under-21s would be a showcase for Israel to win other tournaments, such as the finals of the Europa League and the Champions League.
«I believe that this tournament will be our entry ticket into the European elite and that we will host many more top matches and tournaments here,» he told the Israeli media.
But a number of European players have expressed their opposition to such a prospect. Last November, in the immediate wake of an eight-day attack by Israel on Gaza that damaged several football grounds, more than 50 leading European players signed a protest letter to UEFA.
Chelsea's Eden Hazard, Arsenal's Abou Diaby and Paris Saint-Germain's Jeremy Menez were among those who argued the tournament would be «seen as a reward for actions that are contrary to sporting values».
They also echoed Palestinian players» complaints of repeated attacks on Palestinian sporting venues, the jailing of leading athletes, and Israeli restrictions on Palestinian teams» freedom of movement.
Tutu's message
Tutu's voice, in particular, is likely to add a moral authority to the recent launch of a campaign by Palestinian groups and European and American solidarity activists for a sporting boycott of Israel, modelled on the international campaign that targeted South Africa from the 1960s until the fall of apartheid in 1994.
The move follows the growing success of a cultural and academic boycott initiated by Palestinian civil society in 2005.
Campaigning under the banner of «Boycott, Divestment and Sanctions» (BDS), the movement has sought to deter artists from performing in Israel and scholars from cooperating with Israeli academic institutions.
BDS won a significant victory last month when Stephen Hawking, the renowned British physicist, publicly turned down an invitation to attend a conference hosted by Israel's president, Shimon Peres.
Now, as the UEFA tournament gets under way, Palestinian activists have begun championing an extension of the boycott to include sporting collaboration with Israel too.
Archbishop Desmond Tutu [GALLO/GETTY]
Omar Barghouti, a leading BDS campaigner in the West Bank, said: «Until now we have been slow to focus on sports but, as the UEFA tournament proves, this is another issue that contributes to the feeling among Israelis that they are living in a «normal» country even as they commit crimes against Palestinians.
«The sports boycott against South Africa had a powerful psychological impact on the white minority. It can have a similar effect on Israelis.»
Mahmoud Sarsak's plight
Barghouti and others point to footballer Mahmoud Sarsak as an exemplar of the difficulties faced by Palestinian athletes under Israeli occupation. In recent months he has been travelling through European capitals lobbying UEFA to reverse its decision.
Sarsak's promising career as a midfield player was cut short in 2009 when, aged 22, he was arrested by Israel as he tried to cross from Gaza into the West Bank to take part in a match.
Sarsak was held in administrative detention for three years accused of membership of the Islamic Jihad group, although he was never charged and his lawyers were denied access to the evidence against him. Such practices have been widely condemned by international human rights organisations.
He was finally freed last summer after a 92-day hunger strike.
«Israel works endlessly to repress Palestinian football, just like it does many other forms of Palestinian culture,» he said. «UEFA is legitimising Israel's continued occupation, oppression and apartheid policies.»
The Palestinian team – which plays in the Asian league rather than in Europe, like Israel – was able to host international matches for the first time only in 2008, when a suitable stadium was built in Gaza.
Sarsak said that, a few months later, during the winter of 2008-09, Israel bombed it, along with the Gaza's other major sporting facilities and the Palestinian Paralympic Committee building. The stadium was attacked again last year, shortly after it had been repaired.
Sarsak has also highlighted Israel's detention of other leading footballers, including goalkeeper Omar Abu Rois and striker Muhammad Nimr, again without charges. Another striker, Zakaria Issa, jailed for 16 years, died of cancer last year, a few months after being released on humanitarian grounds.
Palestinian football player Mahmoud Sarsak [Reuters]
Honey Thaljieh, captain of the Palestinian women's team, echoed Sarsak's criticisms of UEFA at a press conference in Doha in March, saying: «It's very hard to understand why they [Israel] have been given such an honour.»
Racism red carded
Sarsak's campaign has helped to spur the rapid emergence of Red Card Israeli Racism groups across Europe, campaigning for a sports boycott of Israel.
The UK contingent staged a protest last week outside a London hotel, in which UEFA was holding its annual congress. The same day three activists evaded security measures to gatecrash a UEFA gala dinner.
Football's elite, including the former England player David Beckham and Manchester United's recently retired manager Sir Alex Ferguson, were reported to be «stunned» as the protesters managed to unfurl a Palestinian flag and denounced the decision to stage the under-21 tournament in Israel before being arrested.
In January, Swiss activists occupied UEFA's headquarters near Geneva, while in April 40 activists occupied the offices of the French Football Association after its chairman, Noel Le Graet, refused to meet them.
Other groups have formed in the Netherlands, Italy, Belgium, Norway and Denmark.
A new United States Red Card group staged its first major protest on Monday as Israel played Honduras in a friendly in New York.
Naomi Wimborne-Idrissi, a UK organiser, said the campaign for a sports boycott of Israel had helped to draw in anti-racism activists who had not previously had a connection to the Palestinian cause.
«It has been a great vehicle for recruiting new people and helping them understand how entrenched the racism is in Israel's treatment of Palestinians,» she said.
The movement would now intensify its efforts to widen the boycott to other events.
«Every time Israeli teams play in Europe we will stage protests, shout slogans from the terraces, hand out leaflets, and wave banners,» Wimborne-Idrissi. «Their appearances will give us the chance to let ordinary football fans know what Israel is doing to the Palestinians.»
She described as «hypocritical» the decision last week by UEFA, and its global parent body FIFA, to agree to stricter rules against racism in football while offering a welcome to Israel.
New regulations
According to the new FIFA regulations, players found to have engaged in racist abuse will be banned for five matches, while offending teams face expulsion from competitions or relegation.
The anti-racism measures were announced as the FIFA congress rejected demands from Jibril Rajoub, president of the Palestinian Football Association, to sanction Israel for denying Palestinian players freedom of movement, and preventing them from attending international matches. Rajoub also highlighted cases of foreign players being denied entry by Israel to play against the Palestinian team.
«Sanctions should be taken. Nobody has the right to act as a bully in the neighbourhood,» Rajoub told FIFA delegates.
Sepp Blatter, the head of FIFA, agreed to add the occupied territories to his tour of the Middle East in July to hear about the problems faced by Palestinian players.
Israel has attracted criticism over racism on the terraces inside Israel too. The issue exploded on to front pages earlier this year when one of the country's top clubs, Beitar Jerusalem, signed two Muslim players from Chechnya.
The team had previously prided itself on never having hired an Arab or Muslim player, despite a fifth of Israel's population being of Palestinian descent. Cries of «Deaths to the Arabs!» and «Muhammad is dead!» are commonplace at its matches.
The Chechen players are reported to have declined to play another season in Israel after fans greeted them with a torrent of abuse and unfurled a large banner declaring «Beitar: pure forever». The clubhouse was also burnt down in suspicious circumstances.
Neither Israel's culture and sports ministry nor the IFA were available to comment on the criticisms levelled by Tutu and the BDS activists.
However, Yair Galily, an Israeli academic who heads the IFA's research unit, defended UEFA's decision to select Israel for the under-21 tournament. «Football can be used to build bridges between Israeli and Palestinian football. The game is a great vehicle for encouraging reconciliation.»
Last month UEFA's general secretary, Gianni Infantino, said his organisation and the IFA «cannot be held responsible for the politics of a national government».
Source:
Al Jazeera
——————————————————————————————————

kjelde: http://www.nufoto.nl/fotos/283950/al-nakba-herdacht-in-ramallah-.html
Appell på Al-Nakba demonstrasjonen onsdag 15. mai 2013 utenfor Stortinget
av Marielle Leraand, nestleiar i Raudt
(publisert med tillating frå Marielle)
Kjære Palestinavenner!
Grunnleggelsen av staten Israel i 1948 regnes som begynnelsen på Al-Nakba, og 15. mai er derfor en viktig minnedag i den palestinske kalenderen.
Og hvorfor er denne dagen fremdeles viktig å minnes?
Etter 2. verdenskrig er det ikke noe annet land i verden som har gjort hva Israel har gjort og fremdeles gjør, og samtidig slipper unna med det. Og da tenker jeg ikke på dette med piratvirksomhet og bruk av elektrosjokkvåpen mot fredsaktivister som ikke gjør motstand når de forsøker å frakte mat og medisiner inn i Gaza. Da tenker jeg ikke på tortur av palestinske tenåringer i de beryktede israelske fengslene. Da tenker jeg ikke på de mange som blir drept av israelske sikkerhetsstyrker på patrulje. Men jeg tenker på det å annektere et annet land.
Denne prosessen starta da staten Israel ble oppretta for 65 år siden.
750 000 palestinere ble fordrevet fra hjemmene sine og 530 palestinske landsbyer ble tømt og overtatt av israelere. FNs resolusjon 194, punkt 11, fra 1948, fastslår flyktningenes rett til tilbakevending, men denne er blitt totalt ignorert av alle de landene som kunne lagt et press på Israel, inklusive Norge.
Og denne totale mangelen på vilje til å reagere mot Israels overgrep mot palestinerne har fortsatt fram til i dag uten at verdenssamfunnet har grepet inn.
Dag for dag gjennomfører de israelske settlerne på Vestbredden og i Øst-Jerusalem nyokkupasjoner av palestinsk land. Dette innlemmes så meter for meter, bolig for bolig, åker for åker i Israels land.
Utallige FN-resolusjoner fordømmer Israels anneksjon av palestinsk jord. Men ingenting skjer.
Et fattig folk, fratatt det landet de bygde, det landet de dyrka og det landet de oppdro sine barn i. Et land med grønne lunger, som nå er omgjort til ørken fordi Israel kanaliserer vannet inn til sine områder. Et land hvor kristne, jøder og muslimer levde side om side. Et land som nå er omgjort til verdens gjenværende apartheid-stat og verdens mest enestående anneksjonsmakt.
FNs gjentatte fordømmelser av Israels anneksjon av palestinsk jord har altså aldri -og jeg understreker- aldri, fått noenpraktiske konsekvenser for Israel som begrenser deres framferd.
Dette er egentlig så oppsiktsvekkende i internasjonal sammenheng at det helst ikke bør tales høyt om. Det kan forstyrre arbeidsroen til USA-allierte regjeringer. Men la oss gi vår egen regjering ufred i arbeidet! Det slette, hyklersk slette arbeidet en hver norsk regjering i alle disse årene har gjort ved å ikke presse på i FN for at Israel skal bli utsatt for sanksjoner som matcher de forbrytelsene de har begått.
Og harmet, det innestengte sinnet mot den brutale og direkte folkerettsstridige behandlingen av det palestinske folk har fått et helt Midtøsten samla i et klart og tydelig budskap, som knapt høres i det norske storting.
Vestens dominerende imperialiststat USA og dets vasaller sitter foreløpig med fingrene i ørene men ikke med hendene i fanget. De lar Israel få fortsette sin apartheid-politikk og det er derfor vi som står her fremdeles må kreve av vårt eget Storting at de skal presse Israel til å :
La de palestinske flyktningene komme hjem.
Fjern de ulovlige israelske bosetningene.
Okkupasjonen må opphøre.
Og sist, men ikke minst; så lenge dette fortsetter må vi også kreve av våre folkevalgte at de skal vedta:
Boikott av staten Israel!
Takk for meg!