Den internasjonale kvinnedagen vert kvart år feira den 8. mars. Ein nasjonal kvinnedag vart først arrangert i USA i 1909. Ein internasjonal kvinnedag vart vedteke året etter på Sosialistinternasjonalen sin konferanse i København, der over 100 kvinner frå 17 ulike land deltok. Dagen vart etablert for å heidre rørsla for kvinners rettar, og å bygge opp støtte for allmenn stemmerett for kvinner. Sidan den gong har kampen for likeverd, verdigheit og medbestemming vorte dei fleste områder som omhandlar menneskelivet.
Denne dagen handler ikkje berre om situasjonen for kvinner i Norge, som sjølvsagt er viktig, med kamp for likeløn, kamp mot vald, osb., men også om å vise solidaritet med kvinner i andre deler av verda som treng vår støtte. OG, det er nesten ikkje naudsynt å nemne kor sentralt det er å kjempe for endring av den uretten millionar på millionar av kvinner opplever dagleg av vald, diskriminering, ulikskap, verdilausheit, og i krig, osb.
Av overnemde grunnar er det difor avgjerande at t.d. denne kampdagen, 8. mars, vert brukt, feira og halden i hevd, for nettopp dette dyrbare i oss: FRIDOM, LIKSKAP, SØSTER/BROR SKAP! At denne kampen vert endå meir viktig i tida framover lyt både kvinner og menn hugse på. Det er også viktig at unge kvinner og menn kjenner til historia til kvinnedagen, det er dei som skal drive framtida, håpnadsfullt framover til det betre.
Ivar Jørdre
Her litt historie om Den internasjonale kvinnedagen, henta frå nettsida til Høgskolen i Vestfold:
Historien om åttende mars

8. mars har vært den faste internasjonale kvinnedagen fra 1922. Det første forslaget om en slik dag kom fra Clara Zetkin på den andre internasjonale kvinnekonferansen i 1910, i forbindelse med den Andre Internasjonalen sin kongress. 130 kvinner fra 16 land var med på kongressen. I flere år varierte datoen for kvinnedagen  ved at man la den til en søndag i mars. I 1914 var det søndag 8. mars som ble feiret som kvinnedagen. Etter dette har man holdt fast på 8. mars.
Det var sosialistiske kvinner som sto bak kvinnedagen. Under første verdenskrig brukte de dagen til pasifistisk agitasjon. Etter den russiske revolusjon og etableringen av den Tredje Internasjonale (Komintern) i 1920, ble det etablert et eget kvinnesekretariat. I Norge var det før krigen særlig Norges kommunistiske Parti og husmorlaga som sto tilknytta NKP, som sto bak 8.mars-feiringer.
Fascismens frammarsj i Europa skjøv 8.mars-feiringa i bakgrunnen. Men allerede 8. mars 1945 (før hele Europa var frigjort) ble det holdt en internasjonal kvinnekonferanse i London hvor et par tusen kvinner fra 20 land deltok.  I den stemningen av optimisme som kom etter krigens slutt, ble Kvinnenes demokratiske Verdensforbund startet. Den norske greina av denne organisasjonen var Norsk Kvinneforbund som hver 8.mars bl.a. la ned krans på statuen av Camilla Collett.
Ny fart på 8. mars-feiringa ble det med oppblomstringa av den nye kvinnebevegelsen på 70-tallet. I Norge var det organisasjoner som Kvinnefronten, Norsk Kvinneforbund, Norsk Kvinnesaksforening og Nyfeministene som sto bak. I kvinneåret 1975 bestemte FN at 8. mars skulle være den internasjonale kvinnedagen.
——————————————————————————————————
Post under er del av ein artikkel i theguardian, om den kjende miljø- og menneskerettsaktivisten Berta Cáceres frå Honduras som vart drept 2. mars 2016. Ho var ei klår røyst mot storselskap og styresmakter sine overgrep og tilraning av naturresursar frå fattige bønder og urfolk. Cáceres som fekk den viktige miljøprisen Goldman i 2015, sa sjølv ho hadde fenge opp mot 33 drapstrugsmål for at ho stod opp mot mektige krefter, spesielt frå damselskap. Det er no, eit år etter mykje som tyder på det som allereie rett etter drapet på Cáceres vart hevda: Mistankane peikar på USA og at lekka dokument frå saka hennar tyder på eit utanomrettsleg drap utført av militæretteretning med band til usansk trena spesialstyrkar i Honduras. Etterforskinga av drapet har gått skandalaust treigt og er truleg årsak av både usanske og honduranske styresmakters trenering. Dei vil ikkje ha sine «blodige hender» opp i dagsljos!
Tidlegare utanriksminister og presidentkandidat Hillary Clinton vart i 2016 på nytt spurt i ei kongresshøyring om handlinga hennar i høve kuppet i 2009 i Honduras, der den demokratisk valde president Manuel Zelaya vart avsett. Sidan kuppet har Honduras vorte ein av dei mest valdelege landa i verda. Berta Cáceres sa sjølv at Clinton spelte ei viktig rolle i å støtte kuppet.

På kvinnedagen kan det vera viktig å hugse på ei sterk kvinne som kjempa sitt folk sine rettar mot urett og storkapital sine overgrep, noko ho sjølv diverre betalte med livet for, og kravet må framleis vera full oppklåring i kven som planla og utførte drapet, der alle steinar skal snuast, og dei skuldige dømmast! Per mars, 2023 er ingen enno dømde i drapet på Berta Cáceres.
Ivar Jørdre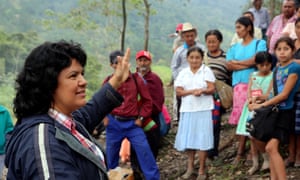 Leaked court documents raise concerns that the murder of the Honduran environmentalist Berta Cáceres was an extrajudicial killing planned by military intelligence specialists linked to the country's US–trained special forces, a Guardian investigation can reveal.
Cáceres was shot dead (six years ago, in 2016) while supposedly under state protection after receiving death threats over her opposition to a hydroelectric dam.