Bribery allegations over fishing rights rock Iceland and Namibia
'Fishrot files' lead to head of Samherji fishing company and Namibian ministers stepping down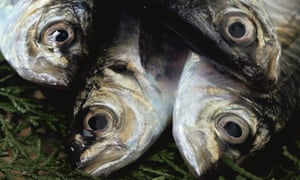 Africa's coastal waters are highly sought after by international trawler fleets. Photograph: TOMIO TAKAHASHI/A.collection/Getty Images/amana images RM
Two Namibian government ministers have resigned and the boss of Iceland's biggest fishing company has stepped aside amid a spiralling scandal over alleged bribes paid to officials in the southern African country in exchange for trawling rights.
Þorsteinn Már Baldvinsson, the CEO of the Icelandic fishing firm Samherji, and Namibia's fisheries and justice ministers, Bernhard Esau and Sacky Shanghala, are the first heads to roll following revelations this week of a vast corruption case.
Three thousand company documents released by WikiLeaks and investigations by the Icelandic magazine Stundin and the TV show Kveikur showed how Samherji had allegedly paid more than 1bn Icelandic króna (£6.2m) since 2012 to ensure access to the fishing quotas, transferring the proceeds from the catches, mainly of horse-mackerel, via a web of offshore firms to a shell company in the Marshall Islands.
The so-called Fishrot Files suggested Samherji had channelled about £54m to the tax haven in this way between 2011 and 2018, with some of the money reportedly passing through Norway's largest bank, DNB, in which the Norwegian state holds a 34% stake.
Johannes Stefansson, a former company employee turned whistleblower, told Icelandic media he had approved the kickbacks with Samherji's backing. The company habitually "does whatever it takes to get its hands on the natural resources of other nations", Stefansson said.
Iceland's prime minister, Katrín Jakobsdóttir, said if the allegations against Samherji were true, there was "cause for great concern for Icelandic industrial activity", adding that the revelations "could affect the nation as a whole".
As global fish stocks decline, Africa's coastal waters are becoming more and more sought after by international trawler fleets, with Namibia's resource-rich fisheries particularly prized. It emerged last year that a fifth of the country's MPs hold shares in fishing companies.
The country's media were outraged. The Namibian newspaper spoke of "a coterie of well-heeled vampires sucking the sector dry", adding that President Hage Geingob, whose Swapo party is seeking to extend its three decades of rule in elections this month, needed to take tougher action.
"No amount of firing of ministers and convicting top officials will fix the looting of state resources, unless loopholes are closed," the paper wrote. "Corruption is firmly entrenched through laws and policies. It is systemic, and the looters are getting more and more sophisticated to enrich themselves at the expense of ordinary Namibians."
In Iceland, the fisheries minister, Kristján Þór Júlíusson – a former managing director of Samherji and lifelong friend of Þorsteinn – is facing calls to step aside until investigations into the company's behaviour are concluded. Halldóra Mogensen, a Pirate party MP, demanded that the minister answer questions in parliament, adding that "the myth of Iceland's innocence is dead".
The ruling Independence party, however, blamed a culture of corruption in Namibia for the scandal. "That's perhaps the root of the problem in this case," said the finance minister, Bjarni Benediktsson. "A weak government, a corrupt government in this country. That seems to be the underlying problem that we're seeing now."
---
Samherji corruption scandal may have consequences for Spanish in Namibia
By Matilde Mereghetti Nov. 18, 2019 – undercurrentnews.com
Namibia's distribution of fishing quotas could be impacted by the corruption scandal that has resulted in the resignation of the country's fisheries minister, Bernard Esau.
Last week, it emerged WikiLeaks has published over 30,000 documents obtained from a former Samherji employee that show the Iceland-based fishing giant paid "millions of dollars" to Namibian officials and politicians for fishing access. Bernhard Esau, the longtime Namibian fisheries minister, has resigned over the scandal, as has the country's former justice minster.
The scandal may in the long-term impact interests of Spanish firms operating in the area «if it is demonstrated that the quota allocation system is corrupt», an executive at a Spanish fishing company told Undercurrent News. 
However, at the moment, there is no direct effect on the quotas, he stressed, pointing out the Galician fleet in the region focused mainly on hake catches. Earlier this month, Namibia set its hake and lobster fishing quotas for the ongoing season. «There is no information on delays,» the executive added.
Issues with fleet rights could punish the interests of 40 vessels of Galician capital that operate in Namibian waters, with more than 5,000 jobs and 50,000 metric tons of annual catches at stake, El Confidencial reported.
The allocation of fishing rights is the largest in the African country since its independence, in 1990. Its dimensions are such that it is causing constant friction between ministers, and between them and the president of the government, Hage Geingob.
The presentation of a phosphate submarine extraction project, an activity with negative consequences for fishing, has been another cause for the delay in setting the fishing quotas.
Namibia is the second largest fishing reserve for the Galician fleet, which operates in its fishing grounds through groups such as Grupo Iberica de Congelados, Grupo Nueva Pescanova, Grupo Pereira, Mascato and Copemar. All these companies maintain a consolidated structure in the country, combining the fleet with processing plants. Much of the frozen fish that arrives in Galicia comes from that country, which has been collaborating for years with the Spanish region's authorities.
The Galician government advises Namibia on fisheries research and aquaculture in Namibia. Galician fisheries councilor, Rosa Quintana, traveled to Namibia for four days in 2016. Four months later, Esau visited Galicia and took part in Conxemar.
---
Photo: Screenshot from Kveikur.
More Arrests in Wake of Samherji Scandal
Sacky Shanghala, former Minister of Justice in Namibia, and James Hatuikulipi, former managing director of Investec Asset Management, were arrested this morning at their Namibian ranch, RÚV reports. Both of them had previously resigned from their positions following the Samherji scandal.
In a conversation with the Namibian, Paulus Noa, Director-General of the Anti-Corruption Commission, confirmed the arrest in a conversation this morning. According to Noa, more information will be made available later today.
As RÚV notes, James Hatuikulipi has amassed considerable wealth through private government contracts. Hatuikulipi is currently being investigated for money laundering, fraud, and corruption involving 150 million Namibian Dollars (ca. $10 million).
Minister of Fisheries, Bernhardt Esau, also resigned following the scandal and was arrested last Sunday. He was released soon afterwards on a technicality, owing to an error in the arrest warrant. According to Paulus Noa, a new arrest warrant will be issued soon.
Esau's son-in-law, Tamson "Fitty" Hatuikulipi, cousin of James Hatuikulipi, and his colleague Ricardo Gustavo are also implicated in the case, along with Pius "Taxa" Mwatelulo, another relative of James Hatuikulipi.
A Brief Recap
Earlier this month, the investigative journalism programme Kveikur (which was produced in collaboration with Stundin and Al Jazeera Investigates) reported that companies owned by the Icelandic fishing company Samherji are alleged to have paid high-ranking officials in Namibia – and individuals connected to them – more than ISK one billion since 2012 to ensure access to horse-mackerel fishing quotas in the country. Last Saturday, an anti-corruption protest was organised on Austurvöllur square.
Article from icelandreview.com
---
Tax Authorities Open Samherji Case
Communication has begun between Samherji and The Directorate of Tax Investigations in Iceland and the District Prosecutor, RÚV reports. The Icelandic fishing company will be ceasing operations in Namibia within a few months, sooner than previously stated. Samherji has been embroiled in a bribery scandal in the African country since last month.
Samherji's acting CEO Björgólfur Jóhannsson told RÚV today that the company had decided to cease operations in Namibia in 2017, but recently accelerated the final stages of that process. Björgólfur says that communication has been opened between the company and the Directorate of Tax Investigations in Iceland as well as the District Prosecutor.
The six Namibians who are suspected of fraud and money laundering in connection with the Samherji case appeared in court this afternoon where their charges were read to them. The Namibian reports that their charges include fraud and tax evasion as well as money laundering.
Article from icelandreview.com
Recommended Posts
SEE ALSO:
Icelandic documentary (texted in Norwegian, some speaking in English), tv.nrk.no
About the fishing company Samherji, en.wikipedia.org