Revolusjonens vakreste røst
Da gateselgeren Mohamed Bouazizi satte fyr på seg selv i den tunisiske byen Sidi Bouzid 17. desember 2010, tente han også gnisten for et opprør som bredte seg over hele Tunisia – og hele den arabiske verden. Mer en fem år etter kan vi slå fast at konsekvensene av Den arabiske våren har vært komplekse, og at veien fram til frihet fremdeles er lang. Likevel har opptøyene gitt liv til en sterk bevegelse av unge mennesker som er villige til å kjempe mot maktmisbruk og korrupsjon, for frihet og åpenhet. Denne bevegelsen er ledsaget av musikere som skaper noe av den sterkeste og mest rørende musikken den arabiske verden kan by på i dag.
Emel Mathlouthi er 34 år gammel, og begynte allerede som veldig ung å skrive sanger med politisk innhold. I 2006, etter å ha vunnet en nasjonal musikkonkurranse, opplevde hun å bli nektet spilletid på radio og TV fordi myndighetene mente tekstene hennes var subversive. Hun flyttet til Paris i 2008 og fortsatte å utvikle seg musikalsk mens lyd- og videoklipp fra hennes forbudte sanger sirkulerte i hjemlandet.
Etter at Mohamed Bouazizis offentlige selvmord satte i gang protestene i Tunisia, markerte Emel seg ved å opptre for tusenvis av demonstranter på hovedavenyen i Tunis, og ved å framføre en gripende, arabisk versjon av Joan Baez' Here's to You. For mange tunisiere ble Emels musikk lydsporet til revolusjonen: Hun har de klassiske arabiske divaenes grasiøse framferd, og er blitt sammenlignet med den legendariske libanesiske sangerinnen Fairuz. Samtidig synger hun med kraften til 1960-tallets protestsangere, og henter inspirasjon fra Baez og Bob Dylan så vel som den egyptiske Sheikh Imam. I takt med spredningen av revolusjonen, ble navnet hennes kjent over hele den arabiske verden. I 2012 ga ut albumet Kelmti Horra (Min verden er fri), med et tittelspor som ble spilt under opptøyene i Egypt. Samme år opptrådte hun for en fjetret forsamling i Bagdad. En kvinnelig tilhører beskrev opplevelsen slik etter at konserten var over: "Tekstene hennes, som er mot frykt, mot diktatur, et kall for frihet og et verdig liv…vi trenger slik musikk her i Irak."
Da hun opptrådte på Nobels fredspriskonserten i Oslo i desember 2015, uttalte Emel at hun ikke hovedsakelig sang for den tunisiske dialogkvartetten, men for tunisisk og arabisk ungdom som har en lang kamp foran seg i de kommende årene.
"Jeg er en stjerne i mørket/en torn i undertrykkerens strupe" synger Emel Mathlouthi. Med sin vakre musikk gir hun håp til mennesker som ennå har til gode å oppleve et liv i frihet, trygghet og verdighet.
Artikkel frå: osloworld.no
(Emel Mathlouthi & Kringkastingsorkesteret (TN/NO), konsert 1. november 2017)
Emel Mathlouthi: 'It's important to be out there as a creative woman from a Muslim culture»
The Tunisian protest musician, who came to fame during the Arab Spring, is reclaiming her identity by pairing traditional beats with modern electronica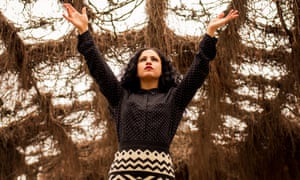 "Screw 'political'! I hate that word," is not the sort of proclamation you'd expect from the so-called "voice of the Tunisian Revolution", Emel Mathlouthi. A relative newcomer to the world pop stage, in Tunisia, she is rather like their Charlotte Church by way of MIA, a national treasure singing songs for the oppressed. Yet in a time of "alternative facts", dog whistles and gas-lighting, her new record, Ensen (Human), makes a profound case for connection without rhetoric. Her pan-global riot of polyrhythmic percussion and tribal-trance breakdowns protests and clamours even before you add in her Arabic vocals. As she says herself: "Music is so immediate, it shouldn't need translation."
Now an NYC resident, Mathlouthi grew up under Ben Ali's dictatorship in the 1990s as it stifled the arts, kneecapped the media and normalised censorship. So she did what she could to do rebel and formed a goth-metal band. But it was on discovering Arabic protest musicians Sheikh Imam and Marcel Khalife, as well as 60s American folk singer Joan Baez, that Mathlouthi realised she could approach political music in a more subversive way. "I had found something stronger: music that sounded soft but wasn't," she says. "Usually in protest music it's the words that are important, but I was interested in being a composer and arranger [as well]."
Armed with her new style, Mathlouthi played shows in Tunis where her raw approach contrasted with the poetic nature of most classical Arabic songs. Her fanbase blew up, but she also got barred from the airwaves. She decamped to Paris in 2008 and continued to release music online. Fatefully, she was in Tunis as the Arab spring unfurled in 2010, and was filmed singing her song Kelmti Horra (My Word Is Free) during a street protest. The video's success turned it into an anthem for the uprising and, in 2015, she performed it at the Nobel peace prize ceremony. "There isn't a more rewarding and exciting thing than being on a huge stage in front of thousands of people," she says of the event.
By the time it came to a second album, however, the activist label had become limiting and it was time to reclaim her own sound. Building on the trip-hop and rock of her debut, she cites producers such as James Blake and Fuck Buttons as inspirations, and paired similarly expansive electronica with traditional Tunisian instruments. "I wanted my beats to be born where I was, and then encounter the modern world," she says. Today, it's a loaded move for an artist such as herself to find mainstream exposure, especially in the Trump era. "I have the opportunity to carry many struggles," she says. "It's important [for me] to be out there as a creative, Tunisian, Arab woman from a Muslim culture, but completely free."
Ensen is out on Partisan Records