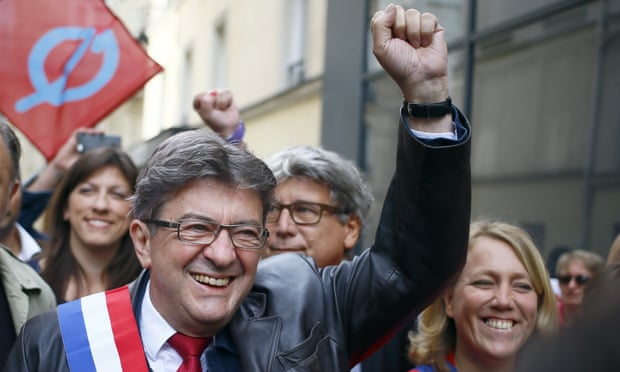 Hard-left leader accuses president of throwing away postwar social gains
Thousands of demonstrators heeded a call by the hard-left leader Jean-Luc Mélenchon to demonstrate their opposition to the government's labour law reforms.
The leader of La France Insoumise (Unbowed France) claimed that 150,000 people were at Place de la République to hear him say: "You are the pride and honour of a country that will not stand and be insulted … it was the people who beat the kings, the Nazis … We are here to defend the republic."
Mélenchon had called for a show of strength from "la rue" (the streets), the traditional place for French workers to flex their collective muscle. Protesters gathered earlier outside the Paris Opéra house at Bastille to march to the symbolic Place de la République to show their anger at what Mélenchon has called a "social coup d'état".
"Our country has the record number of millionaires in Europe … Macron is great news for the rich," said Mélenchon. He urged the crowd: "Put things into motion … young people, enter the fight because you are the first victims of these decrees. The battle is not finished. It has begun. We have to use all the people's force in the battle and in the streets. Never give in."
Unions and workers are fighting the changes to the French Code du Travail that they say would make their position more precarious and give bosses greater flexibility to hire and fire, and to express outrage that the reforms have been passed by decree, a little-used political device to avoid a parliamentary vote. Macron signed five decrees changing labour laws on Thursday that were officially published on Saturday and take immediate effect.
La France Insoumise (FI) has just 17 MPs sitting in the 577-seat Assemblée Nationale but has emerged as the opposition to Macron's administration. The conservative Les Républicains and the Parti Socialiste are both in turmoil following disastrous presidential and parliamentary elections, which gave Macron's La République en Marche party a clear majority in the lower house of parliament.
The Front National, whose leader Marine Le Pen was in the presidential run-off with Macron, is struggling after the resignation last week of one of the party's most influential figures, the vice-president Florian Philippot, who has been credited with her recent electoral success.
FI organised 130 buses to bring protesters into Paris for the demonstration. Mélenchon accused Macron and his government last week of provoking a clash. "Democracy is elections, union actions, demonstrations in the streets, marches … all of this. An election isn't a blank cheque given to those in power," Mélenchon said.
Article from: theguardian.com
---
Far left rallies protesters in Paris
against Macron labour reforms
2017-09-24
Paris, Sep 23 : French far-left leader Jean-Luc Mélenchon rallied thousands on Saturday to protest against labour reforms signed into law by President Emmanuel Macron a day earlier.
Thousands of Mélenchon supporters, environmental activists, anti-capitalism campaigners and others gathered first at the iconic Place de la Bastille, the starting point for a march through eastern Paris to Place de la République.
Mélenchon's France Insoumise (Unsubmissive France) party said it had also bused in protesters from more than 150 French towns.
A huge balloon on top of a truck read «Macron, Resign!» Protest banners denounced the reforms as a «social coup d'état».
Police estimated the crowds at 30,000 protesters by midday. Mélenchon, for his part, estimated the number of demonstrators at closer to 150,000.
«The battle is not over, it is only starting,» Mélenchon, 66, told demonstrators after they had arrived at Place de la République.
«Today we are sending an extraordinarily strong message to the workers, that they are not alone,»Mélenchon added.
The reforms are aimed at introducing more flexibility into the labour market as France struggles with an unemployment rate persistently hovering near 10 percent.
Mélenchon and many French unions argue that the law goes too far in weakening worker protections. He accused Macron on Saturday of fuelling a «race to the bottom» by giving businesses too much latitude. «The work contract will no longer be a safeguard but a sort of paper rag,» he warned.
Macron says that change is needed so France can compete in the global economy. He signed the reform, contained in five executive orders, before television cameras in a US-inspired novelty for a French president. Macron said during the signing ceremony that the first labour measures will start being applied next week and the rest will be implemented by the end of the year.
The reform measures are designed to give employers more freedom to negotiate pay and conditions directly with their workers while making it easier and less costly to shed staff. Small businesses, in particular, will have more options to negotiate pay and work conditions directly with their staff, instead of being bound by industry-wide collective agreements concluded by trade unions or the limits imposed by the national labour code.
A cap has also been set on the amount of compensation awarded by courts in cases of unfair dismissal – a key demand of bosses who complain that lengthy and costly court cases discourage them from hiring staff in the first place. Another measure eases regulations governing when and why companies can dismiss workers.
Macron lauded the «unprecedented wave of changes» to France's often rigid social model, along with changes to unemployment benefits and a training plan for jobless people that will be set up next year.
The protesters are also angry at what Mélenchon has called the «authoritarian» way Macron imposed the reforms. He used a special procedure allowing the government to change the labour law by executive order instead of going through a lengthy debate to pass the bill in parliament.
Article from: ganashakti.com
---
Thousands of left-wingers march against «Thatcherite» Macron in Paris
Jean-Luc Mélenchon (C) and Benoît Hamon (L) on Saturday's demonstrationReuters/Philippe Wojazer
Thousands of left-wingers demonstrated against President Emmanuel Macron's «Thatcherite» policies on Saturday as his controversial labour reforms passed into law. Hard-left leader Jean-Luc Mélenchon's France Unbowed party called the protest against what it calls a «social coup d'état».
After Macron signed them on Friday, the changes to labour law were rushed into print in the government's official gazette on Saturday.
The hasty publication, which was expected early next week, makes them officially French law.
It follows a fast-track adoption that cut short parliamentary debate, defended by the government on the grounds that they were urgently needed to tackle France's 9.6-percent unemployment rate.
The law and its introduction by executive decree are just two aspects of Macron's policy that have caused France Unbowed to accuse Macron of a «social coup d'état» aimed at imposing policies inspired right-wing former British prime minister Margaret Thatcher.
Opposition to Macron
With most other parties, including the far-right National Front, going through internal crises after this year's elections, France Unbowed has emerged as the most vocal opposition on the political plane.
Saturday's demonstration followed two protests and strikes led by the CGT trade union and has led to suspicions that Mélenchon and his supporters are trying to hijack the leadership of the opposition to Macron.
This week they made efforts to counter that fear, meeting CGT leaders and attending Thursday's demonstration.
But their former allies, the Communist Party, have shown only tepid support for the initiative, sending a delegation rather than mobilising their troops, and the CGT did not officially back it, although many of its activists appear to have turned out.
Mélenchon's former rival in the race for the French presidency, Benoît Hamon, who quit the Socialist Party to form his on 1 July Movement after the election, supported the protest, as did a number of other left-wing parties and campaign groups, with various degrees of enthusiasm.
There was some tension on the march between Mélenchon's supporters and the anarchist Black Bloc, who forced their way to the front and tore down posters and threw stones at the stage from which the France Unbowed leader was to speak on arrival at Paris's Place de la République.
Article from: en.rfi.fr/france