Greek PM Alexis Tsipras will return to face a mutiny within his coalition after he surrendered to European demands for action to qualify for up to €86bn of aid Greece needs to stay in the euro. That's according to Bloomberg which has spoken to a couple of Eurasia Group analysts. They claim Mr Tsipras will «have to change his administration and clear out hardliners and radicals from his party,» as well as rely on opposition support to pass the necessary measures.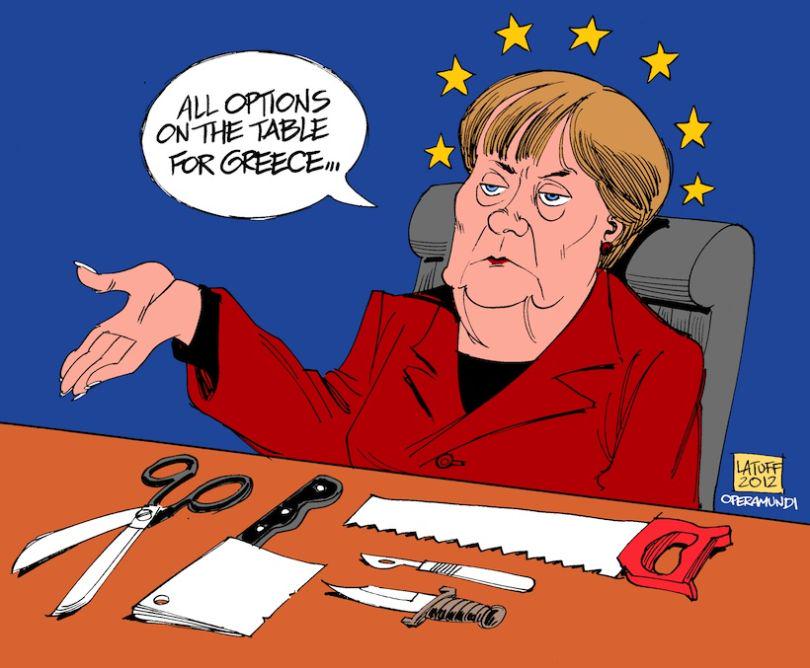 The Greek debt crisis explained cartoons #Greece #Europgroup #ThisIsACoup
What a betrayel to  the Greek People! One week ago the Greeks voted overwhelmingly NO to the Troika's harsh austerity measures. And just the same time later, Tsiprasw bowed his head to Misstress capitalism MERKEL: Ok, no way out, I accept!
What did he accept? Almost the sama as 61,31 % og the Greek people said no to. The deal gives Athens a new three-year bailout pack in return for significant austerity measures. And it has also committed to placing some 50 billion Euros of Greek assets into a new fund that will contribute toward the recapitalisation of country's banks. In this is also the possibility in reducing the number of banks in half. Reducing pensions, more taxes on ordinary workers, privatication of ports and other state owned assets and much more.
Will the Greek Parliament vote yes to this deal with the Troika on Wednesday the 15th of July?
In the talks, the Financial Times reported that summit leader Donald Tusk had physically stopped Alexis Tsipras and Angela Merkel from walking out of talks. As far as this are EU-leaders willing to go to save eurozone, euro and the hole damned capitalist system in the end. But also Tsipras was willing to go very much further than he ever predicted in the past, and so this will create an upheaval in the broad coallition Syriza.
«These intra-Syriza disagreements were highlighted, very publicly, in the Greek Parliament on Friday. Although the Greek government won support of 251 out of 300 MPs for the proposals it took to Brussels this weekend, two Syriza MPs voted «no», eight abstained, and seven were absent. Among the Syriza MPs not supporting the government were energy minister Panagiotis Lafazanis and deputy labour minister Dimitris Stratoulis, plus speaker of parliament Zoe Constantopoulou, all of whom abstained. This points to the strong possibility that Tsipras may very need to soon reshuffle the cabinet and wider ministerial ranks», writes Andrew Hammond in the Telegraph.
Tough demands that kept Greece and its creditors from reaching a deal until near 9am in Brussels monday night have sparked a social media display of anger and solidarity. Let us join in solidaqrity and fight for the Greek people who in years to come will walk the heaviest of the heaviest roads in the shadow of the Troika, unless the people revolt against!