Løgn, bedrag og sionisme
Som den korte meldinga frå Torstein Dahle under viser, så ser ein sionismen sine tinnsoldatar sitt sanne anlet. Det viste seg denne gongen også, at å tru på IDF (Israeli defence force) er i beste fall utruleg naivt. Rein og skjær løgn er det på nettsida deira om korleis dei oppførte seg når dei kapra Ship to Gaza båten «Marianne» i internasjonalt farvatn. Har ein sett eller lest noko om desse siste hendingane på norsk fjernsyn eller aviser? Ja, men altfor stille jamnt over! Det er stort sett berre Palestinakomiteen og Ship to Gaza si nettside som rapporterar forløpande. Men Nrk har eit oppslag om at norske og svenske styresmakter kritiserar Israel og krever sine statsborgarar lauslatne og sent heim med ei gong. – Vi holder israelske myndigheter ansvarlige for behandlingen av våre borgere, seier Frode Overland Andersen, kommunikasjonssjef i Utenriksdepartementet. Han sa også: – Israels oppbringelse av fartøyet «Marianne av Göteborg» og arrestasjonen av personene om bord fremstår som en overreaksjon. Dette er vel noko av det sterkaste norske styresmakter kan klare å uttrykke ovanfor Israel. Under Gaza-krigen ifjor sommar var utanriksminister Børge Brende mykje svakara i ordvalet enn dette i sin kritikk av den israelske bombinga. Uansett er kritikken frå UD denne gongen betre enn ingenting og velkomen. Ein får håpe dei klarar det endå meir neste gong Israel bryt dei fleste internasjonale lover når dei vil freiste å forsvare sionismen sin. Men, det lyt ein vente med å sjå. No er det viktigst å få så stor blest som mogleg om dei israelske overgrepa mot Ship to Gaza og båten «Marianne». Lat dei også aldri få fred i sionisme-politikken sin og deira overgrep mot Gaza sitt folk!
Ivar Jørdre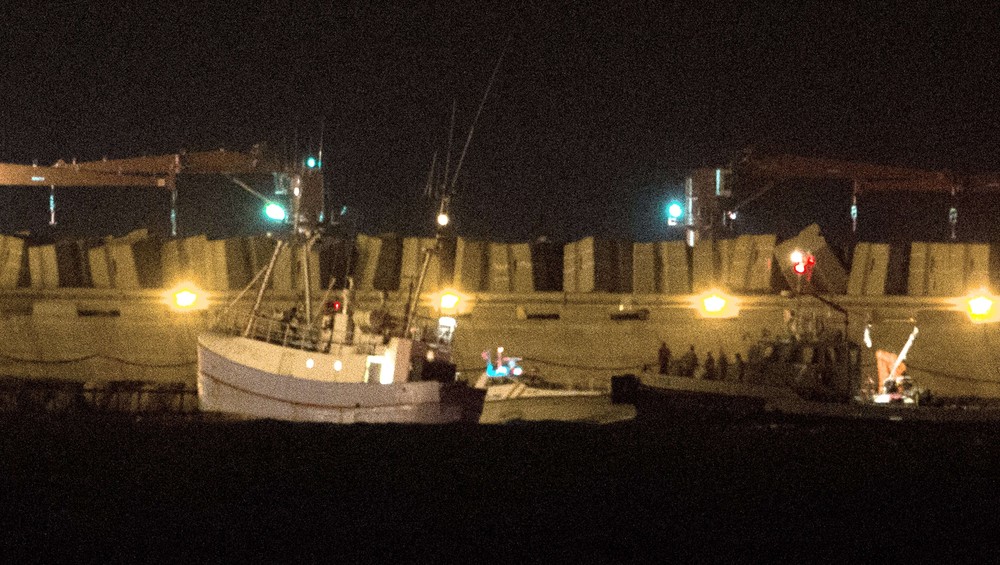 Det svenske skipet «Marianne av Göteborg» ble innbrakt til Ashdod. Om bord var også to nordmenn.
FOTO: MENAHEM KAHANA / AFP
Som vanlig har IDF løyet om at kapringen av «Marianne» gikk rolig og fredelig for seg.
På videoen ser vi først Knesset-medlem Basel Ghattas som appellerer til soldatene med en megafon, deretter ser vi Tunisias ex-president Moncef Marzouki stå helt stille mens vi hører en av marinesoldatene rope ut påstander som så israelsk-svenske Dror Feiler (som hadde ledelsen om bord fra Freedom Flotillas side) roper ut et svar på.
Til slutt ser vi hvordan mannskapet på «Marianne» angripes med elektrosjokkpistoler. Det er vanskelig å se, men jeg er 99 prosent sikker på at det er svenske Charlie Andreasson som angripes. Han ble angrepet først, og deretter ble det brukt elektrosjokkpistol mot den svenske kapteinen Joel Opperdoes. https://youtu.be/HRgUEzUOfXA
KNESSET-MEDLEM OG TUNISIAS EKSPRESIDENT LØSLATT, IKKE DE ANDRE
Nordmenn, svensker og canadiere er nå sammen i Givon Prison i Ramleh i Israel, og de insisterer på å bli behandlet som en gruppe. De er bedt om å skrive under på et papir som gir en uakseptabel versjon, og det har vært arbeidet med vår israelske advokat for å gjøre nødvendige justeringer eller påskrifter. De vil med stor sikkerhet bli sendt ut snarest mulig. Israel strever voldsom for å få minst mulig medieoppmerksomhet ut av dette. Det er derfor mulig at de er sendt ut allerede tirsdag kveld.
Et medlem av Knesset med parlamentarisk immunitet ble straks satt fri ved ankomst til Ashdod. Tunisias ekspresident Moncet Marzouki ble svært korrekt behandlet, og han landet for kort tid siden i Paris. De fleste andre ble ført til Givon Prison i Ramleh, der de nå sitter fengslet.
Ifølge flere kilder er de to nordmennene Herman Reksten og Amman Al-Hamdan etter omstendighetene i god form, men de har fått lite søvn og er svært slitne. De er sammen med svenskene fra «Marianne».
Israelske myndigheter vil at de skal skrive under på en erklæring før de kan sendes hjem. Det nekter de å gjøre, fordi innholdet i erklæringen visstnok er at de skal bekrefte at de har prøvd å ta seg ulovlig inn i Israel. Dette  er i strid med fakta, siden deres mål var den palestinske havnebyen Gaza. Det samme skjedde i 2012 med deltakerne i Estelle-ekspedisjonen. Ship to Gazas israelske advokat fant da fram til en akseptabel formulering, og hun arbeider med det samme nå. Israelske myndigheters strategi er tydeligvis å gjøre sitt ytterste for å minimere den internasjonale medieomtalen. Båten ble denne gang kapret i mørket, og «Marianne» lå i flere timer stille utenfor Ashdod slik at den kunne ankomme mest mulig ubemerket i mørket.
Seilbåten Vittorio, som sammen med de to andre seilfartøyene vendte om for å seile tilbake til Hellas etter at «Marianne» ble angrepet. Dersom «Marianne» ikke hadde blitt angrepet, hadde også de fortsatt, men i tråd med Freedom Flotillas strategi denne gang er de nå ventet til gresk farvann ganske snart.
Torstein Dahle, Leder Ship to Gaza Norway