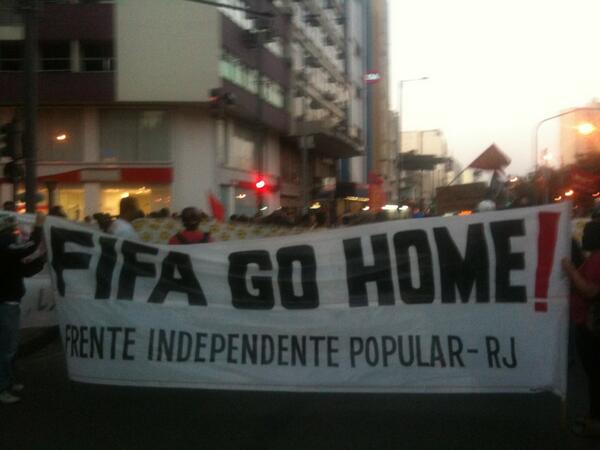 Angry demonstrators were confronted by officers in Rio de Janeiro while Lionel Messi was helping Argentina to victory over Bosnia-Herzegovina
Police in Rio de Janeiro fired lived rounds at anti-FIFA protesters after a demonstration against the World Cup turned violent outside the Maracana stadium.
It was originally thought that the crowd was met with tear gas and stun grenades as Argentina took on Bosnia-Herzegovina.
But it has since been reported that police used live bullets during the confrontation.
Opposition to the World Cup has been high from Brazilians and protests have been a daily occurence.
Around 200 marched on police on Sunday evening with anti-FIFA banners, hours after FIFA's headquarters in Switzerland had been defaced by angry protesters.
On Sunday evening Lionel Messi scored to help Argentina move to the top of Group F but outside the stadium angry locals faced the authorities.
Meanwhile another protest occurred in the capital, Brasilia, but featured only a handful of participants.
Source: mirror.co.uk
Brutal Repression Of Anti-FIFA & World Cup Protests in Brazil: 68 Arrested, 37 Wounded
Updates 16/5:
A staircase trembled today at Maracanã stadium as fans walked on it. It appears that the structure of the staircase was constructed with only nails and wire.
http://revolution-news.com/anti-fifa-world-cup-protests-in-brazil-much-bigger-than-expected-live-blog/
Update 15/6 8:34:04 PM BRT: Wilson Ventura, of the collective Mariachi, is in the hospital. He's got a compound fracture in his hands, thanks to a rubber bullet. Source: Anonymous Rio
Photo: Paula Kossatz at Avenida Maracanã
#Breaking Update on anti #WorldCup protests in Rio de Janeiro: Protestors report having found bullets that were recently fired, and undercover police have been spotted with weapons as well. They also reported that the BBC recorded an incident involving a firearm. The police have reportedly used lethal weapons, according to the live streamer of coletivo carranca, who also reported that luckily no one was shot.
Some protestors regrouped to give support to the wounded and have just been attacked. Others were surrounded as they were leaving, and are being followed by police. In addition to local residents intimidating protestors with firearms, and trying to hit protestors with their cars while firing weapons into the air, someone attacked an elderly protestor near a bar.
Update from coletivo vinhetando: As always, the military police came out winning on the scoreboard of repression and have used bombs against protesters participating in the act "will not have cup, FIFA go home" in Tijuca. Police attacked protesters with bombs on Maracanã Avenue, next to the shopping market in Tijuca, despite the protest being completely peaceful.
Police made formations in queue and cornered activists, who had to change the route towards the Maracana. but the audience endures and continues singing: "fuck the Cup" and "want health, education, and [don't give a] fuck if Brazil is champion."
Rio de Janiero 15/6 Photo: Coletivo Mariachi
Anti World Cup manifestations going on in Rio, multiple livestreams are active right now:
http://us.twitcasting.tv/antuanegestalt
http://us.twitcasting.tv/vinhetando
http://twitcasting.tv/anarconinja
http://us.twitcasting.tv/opativismo
http://us.twitcasting.tv/f:100001481184516
http://us.twitcasting.tv/morrediabo72
Update 14/6: An action in Belo Horizonte ended with a total of 21 arrests, 10 which were made before the act started at the homes of activists. The repression was brutal; 12,000 military police surrounded about 500 activists that had mobilized, and kept them kettled for a total of six hours. During the kettle, 11 arrests were made of people supposedly carrying weapons and masks. When activists finally negotiated their way out of the kettle, they went to a nearby location and dispersed shortly after. At least 68 people have been arrested since the start of the cup on June 12th. Sources: NINJA CartaCapital
Belo Horizonte 14/6, Photo: Lincon Zarbietti
[COPA ON THE STREETS | The battle of TATUAPÉ] The series "Copa on the streets" aims to register all great acts and popular events during the show of FIFA in São Paulo and in other capitals. The first great Act, happened right at the opening of the event-day 12 June in São Paulo, and was repressed improperly by authoritarian military police. Dozens of prisoners and wounded-of which the Guerrillas GRR featured a photographer taken to hospital, and another detained unconstitutionally by PM. via: Guerrilha independent media
via Advogadosativistas.com: Observers documented the first day of repression during the World Cup: 47 people were arrested, 37 wounded by the military police who attacked anti-FIFA demonstrators. Police deliberately assaulted and beaten even a 9 year old child who was on the streets. People were attacked with rubber bullets, suffocated in tear gas, punched, beaten with batons, searched illegally, persecuted because they were filming or taking pictures; police even threatened to kill one of the observers; almost all observers were intimidated by police. "A Spanish legal observer , with international action on Human Rights, was hit in the leg by shrapnel from a bomb exploded moral effect sparse inches from his body and other observers of the group; another one ".  Police shot rubber bullets at medics who were trying to help the wounded, frisked and harassed some of them. Cops repeatedly stopped and tried to stop them from getting to the people who were injured so they can get first aid.  Read it all here in Português – Inglés –  Español.  A reporter from Midia Ninja was arrested while live streaming protests in Belo Horizonte, taken to the police station and beaten until she fainted by 5 cops, see it all here.  Social media activists endured the worst oppression from police during protests; journalists from 7 international mainstream media were hurt or attacked too.
Reblogged from revolution-news